Patchwork Dachshund Perfect For Almost Every Dog Lover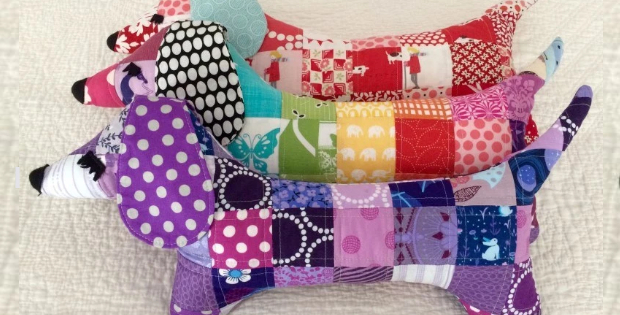 <!- google_ad_section_start -> |
A Quilted Patchwork Doggie To Warm Your Heart.
What a delightful gift for almost any dog lover. Making these dachshund dogs in patchwork is so unique. They're very special. Perfect for fabric scraps to make the squares, and when choosing the scraps, choose one or two special keepsake pieces to fussy cut, to make the dog gift extra special.
These doxies could be just another stuffed toy, but putting them into patchwork makes them extra special. The fabric gives each face a different expression! The eyelashes just give the game away. They know everyone just adores them. These dogs were made for gifts for Christmas, carefully wrapping each in a gift bag, taking care to leave their snouts out so they could breathe.
To make these patchwork dogs, Rebecca from Bryan House Quilts had her ten year old daughter cut the squares using her Sizzix Fabi machine and the 2 1/2″ square die. Following the dog pattern from Retro Mama, Rebecca pieced the patchwork squares, cut out the dogs body from batting, and quilted each square to the batting. And so, made the Dachshund with patchwork fabric! This one even has a bell!
BryanHouse Quilts
Finished doxies from Retro Mama's pattern measure 8 1/2" tall and 19" long. The dogs can be made a little smaller by sizing the pattern to 90% which makes a patchwork dog about 2-3 times smaller than a real life size dog. .
They're so cute, this won't be the last of the patchwork Dachshunds. And if you don't want to go with the patchwork, take at look at Retro Mama's doggie made with Maude Asbury's, Colorific.
The Milo and Moxie doxie pattern is available for purchase. A scrap bag of fabric to make the patchwork Dachshund will do it!
<!- google_ad_section_end ->