Skip Tricky Techniques Using Layered Patchwork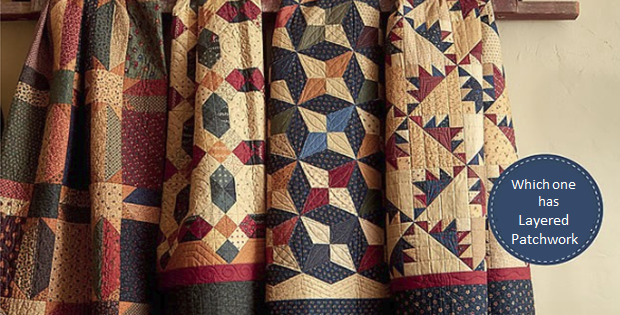 <!- google_ad_section_start -> |
No Trimming Or Pressing
Make the most beautiful quilts building blocks with layered patchwork. We're always looking for shortcuts, tips and tricks to save time. Sometimes challenging techniques can drag the time to finishing a quilt and even a newbie can master this.
The layered patchwork technique can be incorporated in many ways when making quilt blocks. One of these quilts was pieced using traditional patchwork, the other with Layered Patchwork.
Quilt from Kansas Troubles

Cozy Quilt and Comforts Book
To make hst's super simple, you would start by cutting a background square. Then, cut another square the same size, and cut it in half, so that the exposed edge is on the bias. Layer the cut triangle on the background square and top stitch 1/8″. There's no need for trimming, and it eliminating a lot of stress. Make a row of them in no time!
Quilt from
Lynne Hagmeiers Prairie Life Book
Lynne Boster Hagmeier of Kansas Troubles Quilters says:
When assembling a quarter square block often with a lot of the bias edges that you're working with the corners get all distorted. We can layer triangles on top of a background square for stability, but we have to cut that square into fourths diagonally so that our exposed edge is on the ninety degree angle.

If we lay our two triangles on our background square and then top stitch across an eighth of an inch, making sure to catch the points in the center we have a perfect quarter square block in any size that works when it's tiny, or any size you want this block!
Quilt From

Lynne Hagmeiers Prairie Life Book
Flying geese can also be done using layered patchwork. To make the quarter square, which would be the square cut twice diagonally, and then one of the triangles is simply laid on the long edge of the flying geese.
Make a double star that appears difficult at first, however Lynne see's it as simple as breaking it down from a nine patch. It's a great method, and an amazing time saver.
When sewing Lynne's quilt patterns, they can be sewn in two ways. Some designs are traditionally pieced, and others use a clever layered patchwork technique,and where pinked edged precuts reduce cutting time, minimize bulky seams, and skip pressing steps!
In the video Lynne shows some basics of her layered patchwork. You can also learn the basics of her technique, which is featured in her newest book Prairie Life.
You can also find her layered patchwork techniques, together with easy quilt patterns, in her book Cozy Quilts And Comforts.
<!- google_ad_section_end ->