Feedsack Patches Quilt Adds A Vintage Charm To Your Kitchen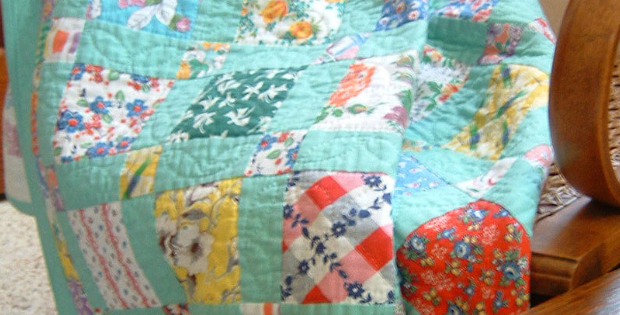 <!- google_ad_section_start -> |
30's Quilts Always Warm and Welcoming.
Quilts often made with sewing scraps or from feedsacks in the 30's, are the same quilts that add a vintage charm to decorating today. The variety of patches and patterns unique, the design's never cease to appeal to your creative heart. 30's quilts always look so good with todays color schemes. Their timeless designs go with almost any decor.
Back in the day fabrics were darker with a limited color range. Take the same designs and use bright 30's reproduction prints or similar. Even the most simple quilt block becomes your best project. The Feedsack Patches quilt is quick to construct, and while you may not have a steady supply of feedsacks from the farm,  use vintage prints and repro fabrics for a new kitchen quilt.
To capture the vintage theme, use Darlene Zimmermans reproduction solid 'Aloe', similar, or choose your own color scheme. Add a mix of small and medium prints from scrappy stash. Capture the ambience of  Feedsack Patches with one or two pieces in the mix from Darlene's collection 'Windowsill Garden' which can be ordered by the yard. Drape the quilt over your kitchen bench to put the pretty prints on display with each 'Patches' block.
The Feedsack Patches quilt pattern can be found in Darlene Zimmerman's 'Granny Quilt Decor' book which has almost 30 designs, including the 'Picnic Basket Cherries' wall quilt, 'Almost A Flower Garden' , and a 'Butterfly Wreath'. The quilts are all shown in room settings to help you intergrate the 30's look into your decorating scheme.
<!- google_ad_section_end ->