Use Fabric Geometrics For Your Next Carpenters Star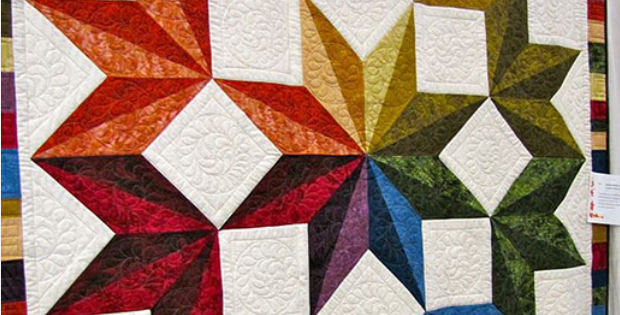 <!- google_ad_section_start -> |
This Feature Star Quilt Will Create Interest On the Wall.
A Carpenters Star becomes striking, enhancing the quilt design by using two values of the same color for each star point. Color radiates from the center and becomes the star or the room.
Using two values of each color, along with texture and contrast, add a new dimension to this Carpenters wheel. A total of eight colors in contrasting dark and light are needed for the star points, making this quilt a great stash buster. Put a selection of left over fabrics together to create a similar effect. Any color choice will be effective using lightness to darkness for each point. Use an unexpected 'extra-light' as a zinger, providing a spark to the design.
Pinterest
Jan Krentz, designer and author mentions some details in fabric texture:
Geometric designs include any patterns that are regular repeats of lines, squares, triangles, stars, circles, dots, checks, and so on. The designs provide visual activity, or filling for the quilt, and are companions to the focus fabric, and the interesting calm fabrics.
Large scale quilts go together fast. To start find eight fabrics for the project, lay them out and find darks or lights of the same color. Star contruction and creating easy split diamonds can be found in Jan Krentz's Book "Quick Star Quilts and Beyond", 20 Dazzling Projects". The quilt projects in this book include star blocks constructed with and without set-in seams. Either way, it's not too difficult, with plenty of tips to get it right with a little practice.
<!- google_ad_section_end ->