A Christmas Tree Quilt Without Making Christmas Trees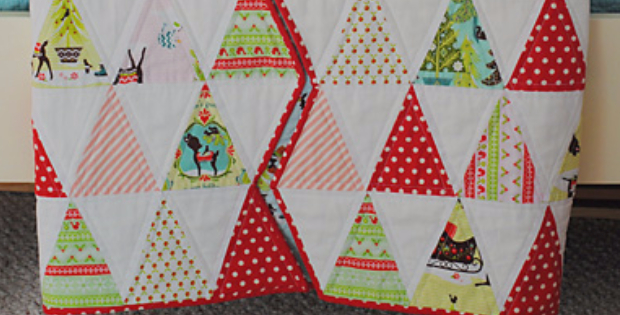 <!- google_ad_section_start -> |
Use Any Fabric For Any Time Of Year.
Use bold 6″ x 11″ triangles with holiday prints to make a pretty Christmas quilt. 'It's the most wonderful time of the year'… to use holiday prints in triangles. They look just like Christmas trees!
Flip through some fun Christmas fat quarters. You'll also need a solid neutral, and white is especially nice for Christmas. The triangles are so quick to cut using fat quarters or half yards. Strips are cut into 6″ x width of fabric. Then start cutting triangles. Using a Kaleidescope triangle ruler, the cut outs go really fast, flipping the ruler as you go along. Cut 156 in colorful prints, and 156 in solid.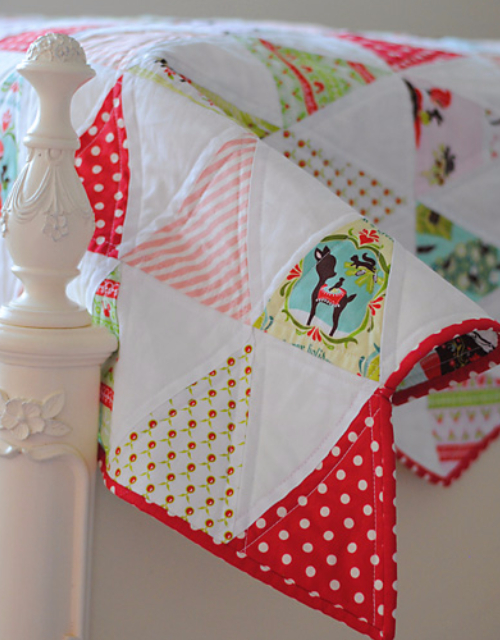 In no time you have a pile of triangles ready. Now, choose where you would like to place each triangle. Lay them out, take one away, replace it with another until you love it. These are great fun to do with a friend or even the kids. Then for the stitching, Ashley from Mommy By Day Crafter By Night says using a scant 1/4″ seam helps line up properly. Play around with sewing a few spare triangles first to get the hang of it. 
Triangles are sewn together in rows and the quilt creates it own zig zag edge. Choose to bind the zig zag edge, or cut the edge straight and add a border. It's so hard to choose, as the border provides a little more fabric to put on display, and the zig zag border is a little unusual. Besides that red and white polka dot edge is really Christmassy! I doubt if you'll stop at making one, so make one of each. These quilts are the perfect addition to your holiday decor. The design can be made with non seasonal prints and you can use it all year round.
<!- google_ad_section_end ->