Batiks Make A Stunning Stained Glass Log Cabin Quilt With Clever Fabric Placement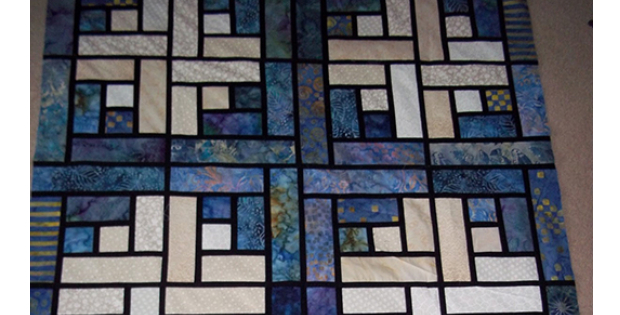 <!- google_ad_section_start -> |
Piece Black Fabric In Between To Create The Perfect Stained Glass Quilt Blocks.
This exciting quilt can easily be achieved with clever fabric placement, and the blocks are easy to size up using a simple calculation. The traditional log cabin block is used but with the addition of pieced black strips between.
Using the traditional log cabin method of dark and light, use one light color in mottled batiks for all of the strips on one side, and the same color but with different values for the dark strips. Batiks work well creating the illusion of refracted light just like stained glass. Putting all the lights together defines the window.
Laurie Biethan of Carita's Quilts says that you're adding one inch of fabric and subtracting one inch of seam allowance. Meaning that you can easily add the black and your finished width will always be the same as the starting width of your two colored fabrics.
To make the stained glass blocks, cut your dark and light fabrics into 3"-wide strips, and your black fabric into 1" strips. Then start strip piecing the black to the colors/lights with a ¼" seam allowance. You can easily convert a traditional log cabin block and make a very effective stained glass quilt. All that matters is that you end up with a dark and a light 3" square for each block with only one black strip between the two!
There is a free pattern tutorial providing calculations and a simple technique to plan your fabrics.
<!- google_ad_section_end ->