Pretty Quilted Fabric Baskets Start Packing In Your Favorite Stash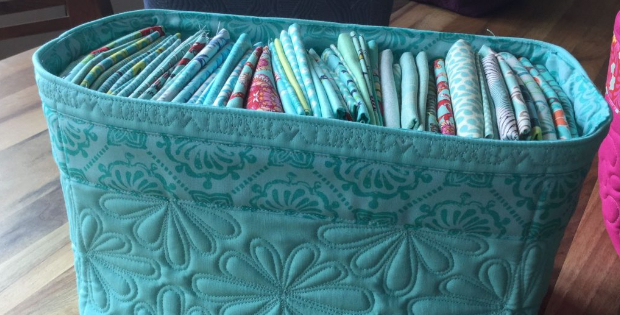 <!- google_ad_section_start -> |
These Fabric Baskets Are Pretty And Practical For Folded Fabric.
Plastic storage boxes are just not the the prettiest to store your favorite stash. These baskets fit 5″ x 5″ folded fabrics, making them perfect to store fat quarters as well as other fabric. Sew some of these pretty quilted baskets using up scraps. Make one in every color! In no time you'll have a stack of baskets and the prettiest sewing room with all your favourite fabrics on display.
The plain ones can made in 20 minutes, and the more fancy quilted ones, 2 to 3 hours. Use this one simple pattern and make a myriad of different baskets. Use strips of accent fabrics, stitch up a plain basket, and spend your creative time on the quilting. Use selvage edges or embroider some words right above the fabric strips. Quilt a design, or quilt following the pattern of the print. You'll be surprised how quick the baskets finish up each with a unique design. No matter which you display them, they're pretty all round. There are often usable selvage edges with designer fabric names found in these fun Moda scrap bags.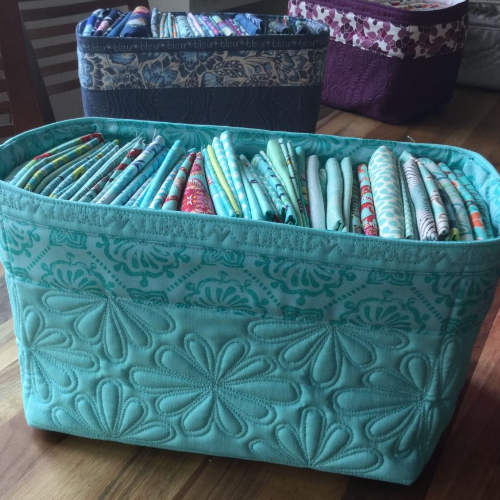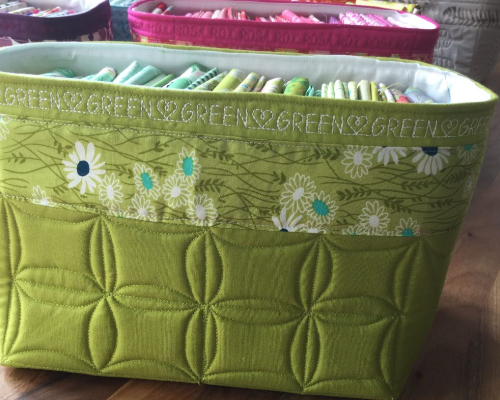 Spend a little more time making up this delightful half Dresden. Using the template provided in the free pattern sheet, cut 20 wedges from your choice of fabrics. Make the Dresden blades, then lay out ten of those wedges and arrange them together until you like the color combination. Sew the wedges together to create your half Dresden plate, then pin the Dresden to your basket pieces. Stitch the Dresden to the basket using your favorite applique, or a closed zig zag stitch. Then quilt to your hearts delight before finishing up your basket.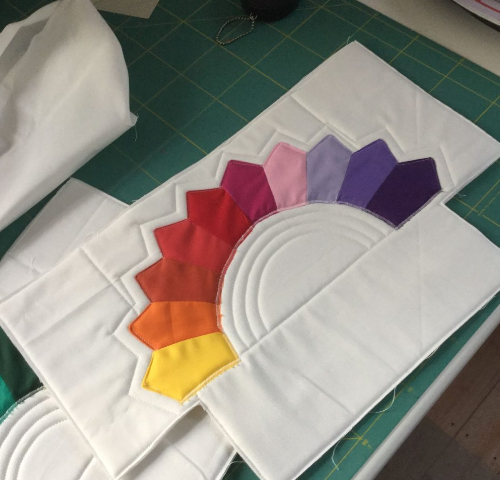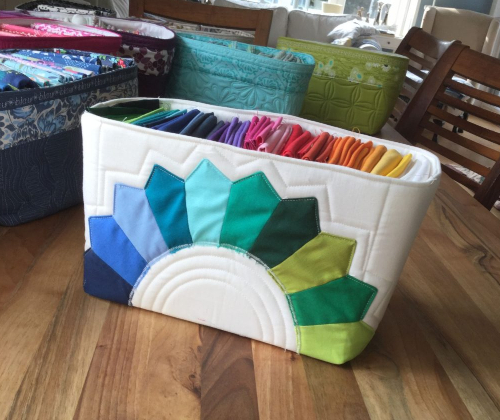 Grete suggests sorting fabrics into three categories. Basics that you always need which are colors to add that unite almost any project. Then your collection of fabrics you like and love, and you will use in most quilts, mini's, pot holders and placemats. Then there's your very special collection that stole your heart, you'll keep every last little scrap to use, and you want to look at them every time. Sort fabrics, fold fabrics 5″ x 5″,  and tuck in each one.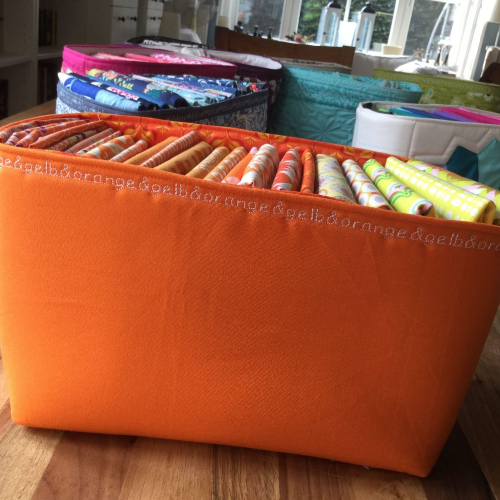 Get the free pattern sheet here.
<!- google_ad_section_end ->