Wreaths For All Seasons To Make From Your Scrapbox.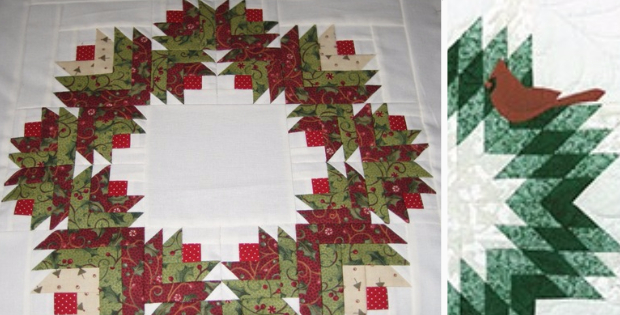 <!- google_ad_section_start -> |
A Christmas Wreath, Or A Wreath For Any Season, Table Topper And Mini Quilt.
Start shopping your scrap bag and your stash to make up this striking Wreath. Anyone can make this paper pieced all seasons wreath for themselves and the project can be made up entirely from scraps. Use red and green, with the addition of holiday prints for Christmas, or any fabric for any time of the year.
The buttercup blocks are paper pieced. A total of sixteen 2 inch blocks make up the frame, along with four 4 inch blocks for the corners. The result is mesmerising. There are no fabric requirements listed since it is made from your scrap box! Use holiday prints and applique one or two red Cardinals on the wreath, or stitch up an Autumn wreath for Thanksgiving and a celebration of Fall to put on your front door. The wreath pattern poses endless project possibilties.
There are two sizes available in the free pattern provided. The smaller wreath before borders measures 12 inches, measuring 13″ x 14″ completed, and is a suitable size for a table topper. The large wreath is 18 inches before borders, making a nice table center piece or wall hanging. Another option is to cut out the center and round off the corners to make a tree skirt.
The designer Kat Scribner from Scrap Box Quilts explains her experience with color, and how she quilted the mini with a serpentine stitch. Read more about her details and instructions about the pattern here.
Kat added a note to her pattern as mentioned here:-
While I was re-sizing the blocks in the word file, the sizing became distorted with the seam allowance included. So I have provided the block patterns without seam allowance added around the outside edges. You will have to remember to extend the fabric pieces 'at least' 1/4 inch beyond all the block edges and trim the block to include the seam allowances.   Also remember to have your printer settings set to "no scaling".
If short of time to make it yourself, Marrie makes the mini wreath as a completed block, and it is available for purchase here.
For a similar Wreath you might like the idea used for this Wreath with Cardinals. The cardinals add a nice touch and could be appliqued to any wreath.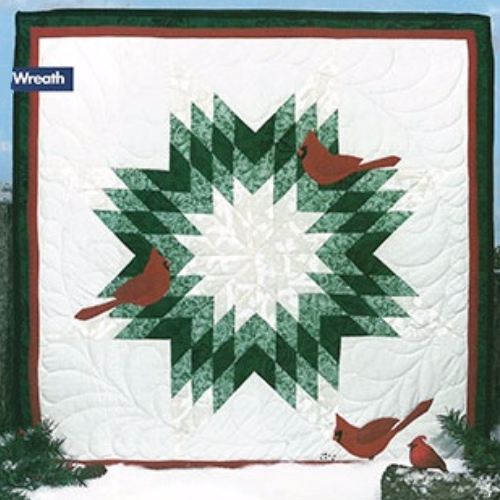 The Star Wreath with Cardinals pattern is provided in a pattern book of four wreaths and is available for purchase. The book contains Wreath patterns to make a star wreath quilt, a mini wreath quilt and more, using included templates, and strip piecing.
<!- google_ad_section_end ->