A Cardinals Quilt Too Beautiful Just For Winter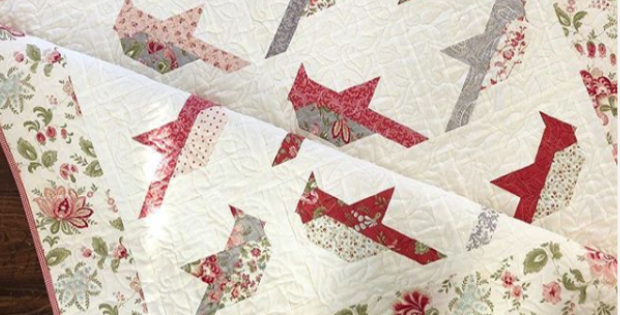 <!- google_ad_section_start -> |
A Stunning Quilt For Bird Lovers
Winter cardinals with pine cones and twigs, they're a symbol of faith and warmth with their bright red colour in the dreary days of winter. If you love birds in your quilting, make a quilt with nothing but cardinals on it, and for any time of year if you choose.
The blocks are made with simple piecing. Different shades and patterns of reds help build the bird, and give the bird that texture and the color that it needs. You can mix and match Cardinals in all sorts of different reds, and ones with a little bit of a pattern to it.
Switch it up with the colors of the reds, positioning a fabric pattern at the neck, or to feature the wing.
The birds are perfect in Porcelain by 3 Sisters. The cream piece in the Porcelain collection is used for the background, or any light cream would be beautiful. A white with a tiny swirl to it, and just a little hint of cream, or choose your own fabrics. They're just as beautiful in blue!
If you've never made a bird before, it's the fabric that's really going to define the effect of the Cardinal.
As the little blocks start coming together, you can tell already it's going make a beautiful quilt. To make your cardinal facing the other direction, simply do the blocks in reverse.
You could quilt free motion swirls for a soft winter scene, or a swirl with leaves. A beautiful Cardinal quilt pattern, designed by Margot Languedoc, layer cake friendly, and finishes in 2 sizes:
Small – 47.75″ x 52.5″
Large – 58.75″ x 60.5″
<!- google_ad_section_end ->