Red Bird and Berries For The Holiday Or Till Winters End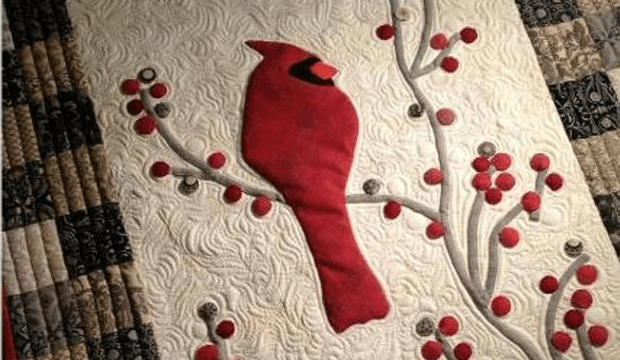 <!- google_ad_section_start -> |
A Beautiful Cardinal To Put On Display
This mini quilt will charm all who see it. To catch a glimpse of a peaceful Cardinal is a rare and special moment. Capture the scene to display through winter, or enjoy the beauty of the bird all year round. A striking scenic wall quilt, the large white background enhances the beauty of this red bird.
Prepare your 'canvas' for the applique by first completing the top. The pattern template for the bird, mask and beak is provided in the pattern with detailed instructions for the appliques. Hand applique was used for this quilt, and needle turn applique for the bird, however the stems berries and bird can also be done using two sided fusible and completed with raw edge machine applique.
The fun project provides detailed instructions every step of the way, you sure to be pleased with the results.
The Red Bird and Berries wall hanging, designed by Karen Miller of Redbird Quilt Co, is a finished size of 21.5″ x 29.5″
<!- google_ad_section_end ->