A Valentine Wall Hanging For Valentines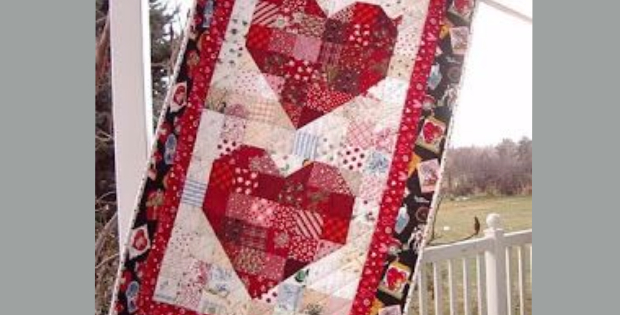 <!- google_ad_section_start -> |
Fun Valentine Wall Hanging To Display On Your Porch With Two or Four Hearts.
As the Valentine weekend approaches it's a lot of fun to start displaying traditional heart decor, encouraging budding relationships and prompting marriage proposals. It's a great time for romance and you're missing out by not putting up even just a little romantic heart decor. Reds are are bright and exciting to have around the place, and hearts will always be a favorite. Display this inviting 'two hearts' Valentine wall hanging on the porch.
Scrappy fabrics in dark red prints are perfect for the heart. Use light shades for the background to enhance the rich colors of the hearts. Then finish with Valentine print for the border. Half square triangles are used for shaping the heart. The main body is made up using 2 1/2″ squares.
This is a small project and great to try out machine quilting. Using the same pattern you could modify the blocks and make a four heart banner. The heart and background could be used for other projects such a table topper or pillow cover. A quick easy design to make in an afternoon and have ready to hang a good couple of weeks before Valentine and enjoy the display for a while at least.
<!- google_ad_section_end ->