Make An Armchair Sewing Caddy That Never Falls Down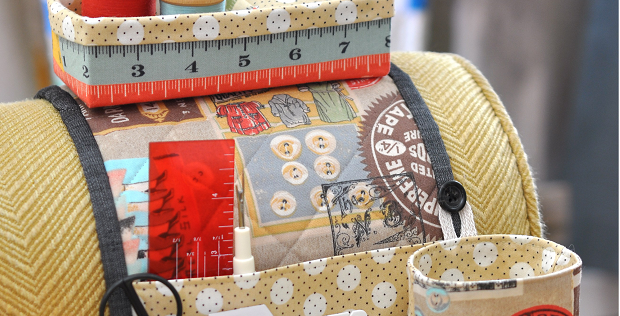 <!- google_ad_section_start -> |
Finish Hand Sewn Projects With This All In One Sewing Station
Stitch up this super handy sewing station that has all the essentials when finishing off projects while relaxing on the sofa. The sewing caddy design includes a pin cushion that fits snug in the sewing accessories basket. A matching thread catcher is ready as a catch-all for threads and small fabric snippets. The addition of a small metal strip provides the base for the magnetized accessories to stop them from ever falling down again!
The little thread catcher is an optional piece, but it's so helpful to have at hand. If you don't use it for scraps, you can use it for extra storage. Too cute buttoned to the station, simply unbutton and take it to your sewing machine!
The set of pockets can be positioned on the inside of your seat or the outside. Sew buttons up to four places on the body of the caddy so the de-tacheable basket can be buttoned on wherever its most convenient. The sewing station becomes totally reversible! Find some thin ribbon or trim and buttons to hang your thread catcher. That super cute tape measure fabric can be found here.
The pattern is designed to make the main body of the sewing station 7" wide or 9" wide, by 17" long. Included are instructions on how to adjust this measurement to be longer or shorter, as well as measurements to cut your own metal strip. However, Nicole has made up a small hardware kit, put together to fit the design perfectly, ready made and available for purchase, so you can get started right away on stitching up your station!
Nicole Young of Lillyella, designer of this super cute 'Mini Maker Station' has thought of everything. The armchair sewing station can have interchangeable accessories that include a small storage basket and pincushion. You can also use other magnetic accessories with it, such as pin bowls!
To get started with the Mini Maker, Nicole put together a Sew Along, which included tips and tricks, from fabric selection, to the main body of the station. Plus a step by step tutorial on making your basket and getting it nice and crisp. An easy project that anyone can make using the pattern and tutorial guides. You can see the results here.
<!- google_ad_section_end ->