DIY Quilt Ladder Needs So Little Space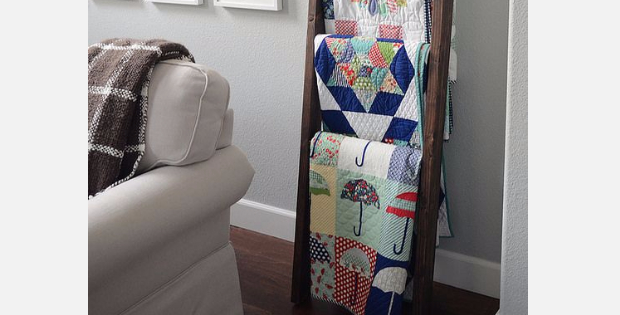 <!- google_ad_section_start -> |
Forget Heavy Ladders To Display Your Precious Quilts
This quilt ladder is perfect for small spaces, yet displays up to four quilts beautifully without getting in the way, or having to be crammed in somewhere. It's so easy and inexpensive to make, and you can get all the supplies from your local hardware store, where they usually cut wood pieces to size for you.
The ladder has all of four bars and is very light, and easy to move around if you need to, even with the quilts still on. The plain and simple design of the ladder will suit almost any decor. The quilts on display create the perfect setting.
Too often your most beautiful quilts are put away out of sight, their beauty hidden and that's not how it should be, and all because there has never been a convenient place to display them, nor anything suitable to use for the display. Once this ladder is in place, simply propped up against the wall in a convenient spot, it takes just a couple of minutes to decide which quilt goes where… Perfect!
It's so easy to keep tidy. Rotate your quilt display with others that are still in the cupboard, so none of your quilts are ever forgotten. Each time you put different ones out, it freshens up your decor with something new. The ladder also fits into the closet, and quilts are hanging and ready for reach.
To make the ladder you will need:
2 x 6″ length of what is called 2 x 4″s, cut at an angle at one end to lay flush against the wall.
4 x 18″ lengths , called 1 x 4's for the ladder rungs.
For the stain: Minwax Jacobean.
The top rung is 3″ from the top, and each rung is spaced 11.5″ down.
Screw the rungs on at a slight angle so that the quilts 'hang' properly. Apply the stain and let dry for 8 hours, then apply a clear coat of spray lacquer which will need about 2 hours to dry. The whole thing cost Brandy from Glue Stick around $15.
I love that umbrella quilt too! That's a pretty quilt to put on display. The umbrella quilt, Raincheck by Thimble Blossoms is available for purchase here.  Or else there's a free Umbrella mini quilt pattern further down.
Make a Thimble Blossoms Umbrella mini quilt just for fun!
Download the free Umbrella Mini Quilt pattern here.
If you don't have time or tools to make your own quilt ladder, they're available for purchase from Just Knot Wood and you can choose your color stain.
<!- google_ad_section_end ->