Extraordinary Log Cabin Quilts Are Great Fun With Any Colorway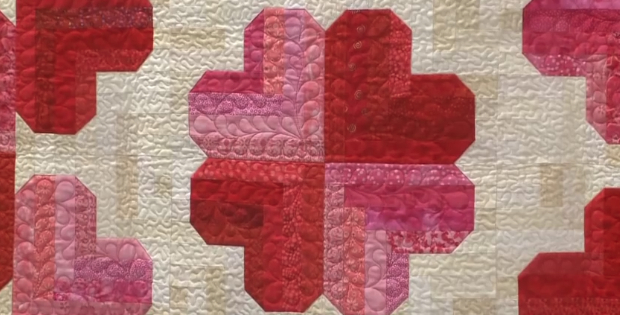 <!- google_ad_section_start -> |
Easy Log Cabin Quilts Become Your Best Projects.
Make the most beautiful log cabin quilts with straight cut fabric scraps. The design changes as you apply a different fabric style and alternate colorway.
Log Cabin Quilts are made with nothing more than rectangles. If you can cut and sew straight, you can make a log cabin quilt. Even a beginner can make a colorful log cabin. When your seam allowance is right, Log Cabin quilts are easy and come up perfect every time. Hearts work beautifully in a log cabin arrangement.
The Log Cabin is ideal for beginner quilters. It's made up of basic shapes and simple contrasts. The design has many setting possibilities, and is surprisingly easy to put your own creative stamp on the pattern.
Images Youtube
Stitch up this delightful Mariposa quilt. Here it is shown with 16 Mariposa Log Cabin blocks set 4 x 4. Add more blocks and a curvy border for a bed size quilt. Choose your own colors for an eye catching wall hanging.
Cheryl Teapots Quilting
The block can be made in striking colors.
Pinterest
The heart quilt, Honeymoon Log Cabin, designed and named by Judy Martin is a nice addition to your Valentine projects, will make a great gift for newly weds and as a house warming gift. The hearts are striking in pink and red, but can be made in any color variation.
These patterns can be found in Judy Martins book, "Extraordinary Log Cabin Quilts", which contains a total of 15 patterns. 128 pages of color throughout for quilters of all skill levels. The most extraordinary thing about the quilts in Judy Martin's new book is that they don't require any special skills to make. If you can make a straight cut and have an accurate seam allowance, you can make any of the quilts in this book.
<!- google_ad_section_end ->