Giraffe Quilt That Brings Sunshine Into A Babies Room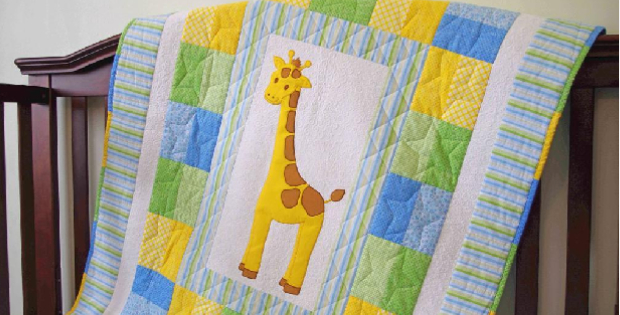 <!- google_ad_section_start -> |
Make This Giraffe Quilt In Sunshine Yellow and Blue
Cute little applique quilts are always a win for baby quilts. What better than a bright yellow giraffe with brown spots on his back just like a real giraffe. Then to compliment the quilt, delightful blue and yellow blocks for the inner border, and blue and yellow pinstripes for the border and binding. Perfect for giraffe nursery decor.
This cutee Giraffe quilt might looks so professional and really difficult, but the skill level is easy! This quilt pattern was designed with bugs in the center originally, but later changed it to a giraffe! The baby quilt is fast and fun to make.
Here was a practice run on the girly version. Simply use the pattern above and change the blue blocks to pink!
The finished size is 40″ x 51″
Here are the fabric requirements to start planning ahead.
3/4 yard white solid
1/4 yard light yellow print
1/4 yard dark yellow print
1/8 yard light blue print
1/8 yard dark blue print
1/8 yard light green print
1/8 yard dark green print
7/8 yard coordinating stripe print
1/4 yard yellow solid (for appliqu)
1/8 yard light brown solid (or scraps for appliqu)
1 & 2/3 yards backing fabric
1/3 yard binding fabric
You Will Also Need:
1/2 yard lightweight paper backed fusible web (Pellon 805 Wonder-Under)
Crib size batting (45 x 60″)
Matching yellow and light brown thread (for applique)
Click Here To Get The Free Giraffe Baby Quilt Pattern
<!- google_ad_section_end ->