Honeybear Lane Puff Quilt It's About The Puff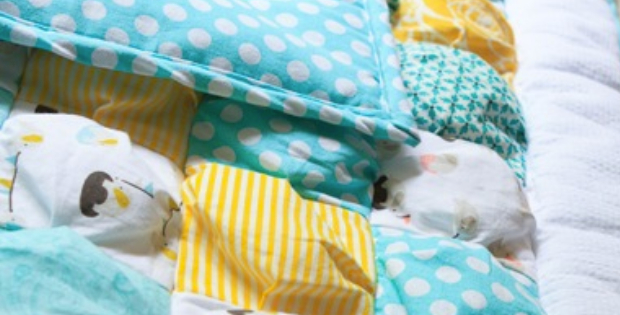 <!- google_ad_section_start -> |
Honeybear Lane Puff Quilt The Softess Puffs and The Prettiest Prints
Everyone loves puff quilts. They're easy to make following a simple pattern, but it's the size that could become a little overwhelming since the layers are quilt bulky. That said, this particuler puff quilt is warm and inviting. Using an easy pattern and getting creative with the fabric has made this one of the prettiest puff quilts around.
It's the kind of quilt that gives you a hoiliday feeling. Fun in the sun, pretty summer feel. Matching the type of fabric to the style of quilt is huge part of the success of a quilt top. With this puff the squares are almost imperfectly gathered. The puffed squares are under-filled giving a floaty feel.
The Honeybear Lane puff quilt pattern was used here, but there is a slightly different approach to puffing. Most puffs are filled to the brim and it might well be losing some of the character of the fabric. Notice these aren't totally stuffed. They're so soft and pretty.
There's a mix of cute elephants, sprinkled with yellow and white polka dots, with light aqua blue print for extra energy.
The puffy squares are floaty and it's because of the fabric choice. The broad border is snow white making the colors, especially the polka dots really crisp. Then nothing can beat the blue and white polka dot fabric for the backing. Better yet the same blue and white polka dots are used for the binding.
Here are the fabric used and how the squares were placed.
Fabrics:
1. Michael Miller, Ta Dots in Ocean
2. Yellow Ticking Stripe
3. Cloud Nine Fabrics, Ele-Fete in Sky
4. Riley Blake, Bloom and Grow Paisley in Blue
5. Michael Miller, Ta Dots in Aqua
6. Alexander Henry, Matisse in Yellow
7. Riley Blake, Bloom and Grow Geometric in Blue
8. Cloud Nine Fabrics, Ele-Fete in Shell
The binding is white seersucker, purchased from Hancock Fabrics. The back and bias tape are also Michael Miller Ta Dots in Ocean.
This Puff Quilt pattern is available for purchase. The border is a little wider and it adds to whole feel of this quilt idea.
To see more Puff quilts, also known as Biscuit Quilts, click here
Article:lemontreecreations.blogspot.com
<!- google_ad_section_end ->