Mini Charm Birdhouse Quilt To Remind You Spring Is Just Around The Corner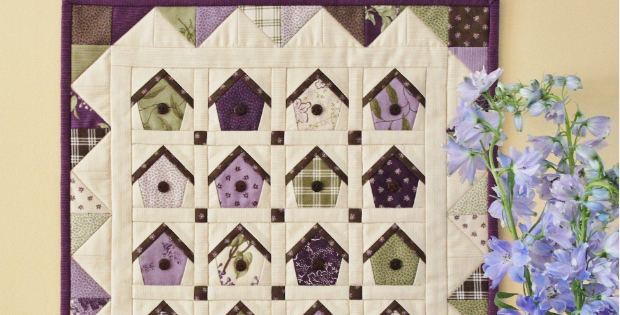 <!- google_ad_section_start -> |
Use Mini Charms Or Scraps Of Fabric.
Make a sweet simple wall hanging with rows of birdhouses. Fresh floral's together with subtle plaids and stripes, it's perfect for Spring, with the thought of tweets in the back yard, this little quilt warms my heart.
You'll be needing 16 mini charms or 2 1/2 inch from scraps for the sweet birdhouses. Florals and paisleys for a Spring theme, or use any fabric that you love. That Earth Brown is just right for the woody birdhouse roof , or find something similar in your stash.
If you are trying paper piecing for the first time, you'll love how perfect the houses come out. Each block measures 2¾" x 2¾" unfinished, 16 blocks in total. A mini charm pack plus a little extra fabric makes one charming 15½" square little quilt! The feature quilt was made using Moda's Lilac Ridge.
To complete the scene half square triangles for the border and a button for the door. The mini quilt finishes at a charming 15 1/2″ square. To make a larger version of Jen Daleys Home Tweet Home wall hanging, up-size to charm squares and use Jens calculations for sashing, cornerstones and borders here. A larger version using charm squares (5″ squares), will render a finished quilt of approximately 30½" square..
<!- google_ad_section_end ->