Nordic Mini Quilt With Basket Weave Hearts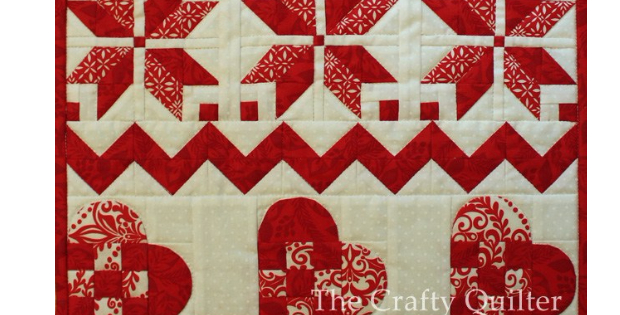 <!- google_ad_section_start -> |
A Pretty Heart Quilt For Valentines Or Any Special Occasion.
Hearts are eye catching in red and white, and these basket weave quilt blocks create perfect 3d hearts to display for Valentines, as a holiday quilt, or any time of year.
Each heart consists of a 9-patch and two appliqued half circles. Scraps of fabric in red and white or additional pink should provide enough to cut pieces 1 1/4" x 9" rectangles and smaller.  Make 3 nine patch units by sewing three strips together and cutting into 1 1/4" segments. Join together to make a nine patch square. Applique half circles to complete the heart.
Pay attention to the color placement of the heart half-circles, creating an alternating pattern across 3 hearts in a row.
The quilt is made up of several blocks. A Nordic star, flying geese blocks to create a zig zag, and sweet little four patch blocks set on point. Each block a creative project providing great practice for beginners.
Complete blocks for all four rows. Choose how you would like to place the rows, moving each one around until you love it. Julie Cefalu of The Crafty Quilter suggests completing all four rows before sewing them together. Choose red for the binding, or any color that compliments fabrics used for the blocks. Red and white for Valentines and the Holiday season, or a mix of fun colors for a new wall quilt to brighten up your decor.
<!- google_ad_section_end ->