Pinwheel Quilt Pattern Is A Flirt And Wins Your Heart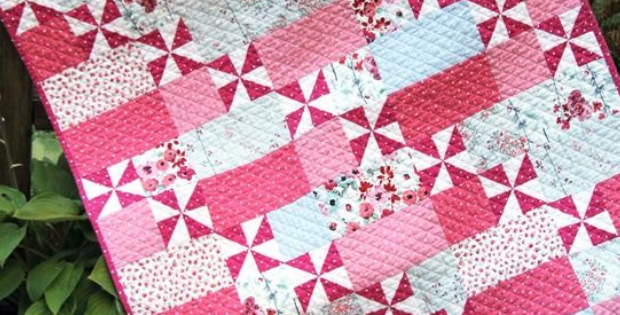 <!- google_ad_section_start -> |
Flirt Pinwheel Quilt Pattern Could Be Considered Flirty
This pinwheel quilt pattern has pinwheels out of the ordinary. The quilt is so beautifully designed using the Dear Stella Flirt fabrics that it truly captures your attention and wins your heart. With a mix of florals and tiny polka dot fabric mixed and matched throughout the squares and rectangles, the secret I believe it's that the same print is used for every single pinwheel. The uniformity is what draws the eye to the beautiful pinwheels and they tuly are the feature of this flirty quilt.
Personlize your quilt using almost any fabric for this quilt pattern, The Dear Stella Flirt collection fabrics work equally well for a baby or a teenager. So you can make a baby quilt that they won't outgrow it in a year! The different pinks work so well together and what better than for the pinwheel to be a little darker to enhance the uniformity.
The name of the pattern is Playful. Playful is a 38″ x 45 1/2″ baby quilt. It goes together quickly and looks great in any fabric. Recommended for a beginners who have mastered a 1/4″ seam allowance. Easy as…!
However if Dear Stella Flirt fabric has captured your heart and you have fallen for the Playful pinwheel quilt pattern it is available for purchase as a kit. Makes the most adorable baby quilt, but why not a perfect lap quilt?
Fabric requirements:
1/2 yard of polka dot fabric for pinwheels
1/2 yard of white fabric for pinwheels
1.25 yards of assorted Flirt/Love Letter fabrics cut into fat eighths or 1/8 yard pieces
3/8 yard of binding fabric
1 1/2 yards of backing fabric
Here are some quilt ideas for the same pattern with a different quilt fabric approach.
Pinwheel quilt using fabric Oh Clementine.
Strong reds for a striking lap quilt!
Here using Pez Fabric
Here's the girl baby quilt using Dear Stella Flirt.
A peek at the backing.
The Dear Stella Flirt collection.
Feel like just getting started right away. This Pinwheel quilt is just lovely, the Flirt fabric. They just go together.
There is a quilt kit available for the Dear Stella Flirt fabric and Playful pattern.
You may wish to see the beautiful range of Dear Stella Flirt fabrics.
<!- google_ad_section_end ->