Creative Fabric Play With A Starry Cabin Quilt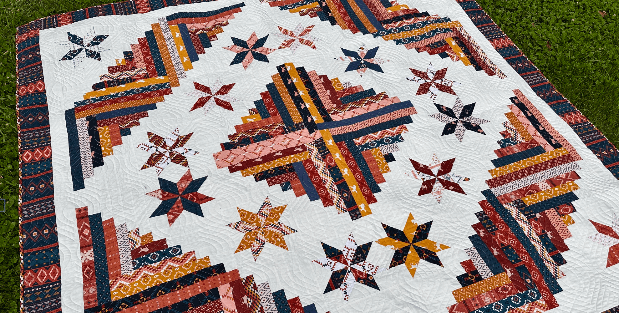 <!- google_ad_section_start -> |
One Block Becomes A Star In a Log Cabin
Play with colors and fabrics in these striking log cabin blocks to create endless variations. Combine with a star, and make up a bold 10 inch block. Four blocks make a delightful baby quilt, or go on to a totally unique design of your own.
Select colorful prints to make up darks and lights for the logs. With the addition of white, the blocks blend seamlessly into the star.
Construction is quick with the assembly of strips for a three quarter cabin block, while a star emerges from the center square. Sew a baby quilt with scraps for the colors portion or 10 assorted fat eighths. A finished baby quilt size 43 1/2″ x 43 1/2″
Fabric play to create spinning stars with light and dark prints.The pattern Starry Cabin designed by Jessica Dayon offers a myriad of choices including placing all four stars in the center of the quilt, or cabin logs in the center and stars around the perimeter.
The fat quarter friendly pattern also provides for a Full Size quilt 84 1/2″ x 84 1/2″, a beautiful array of 16 starry log cabin blocks.
'Starry Cabin' quilt pattern is available for purchase.
<!- google_ad_section_end ->