Quilted Hearts For Your Next Table Runner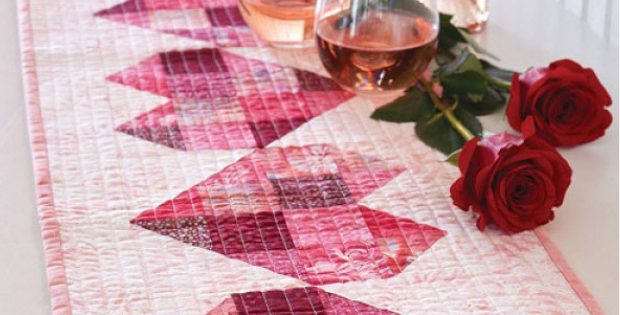 <!- google_ad_section_start -> |
Pink And Red Hearts Glow In Batiks.
A fun weekend of sewing will dress your table in this pretty hearts table runner. Batiks in medium and dark pinks create a dimensional shimmer.
Using 2 1/2″ pre cut strips this table runner is quick to stitch up.  Make bright 8″ heart blocks using a mix of pinks, hot pinks, and red with a neutral background. The background looks great with a swirly, marble type of print. The 8″ heart block can be used on their own for small projects. Use scraps to cut 2 1/2′ squares, the blocks are the perfect size for a mug rug, a great gift for your special love!
For accuracy use the Fons and Porter half and quarter ruler, quick for cutting half squares and quarter squares. Place the pieces on the background fabric and build the hearts. Use a mix of color values and prints for a delightful scrappy look. The hearts come together quickly with no curved piecing.
Find scraps in similar tones in 8 different fabrics or go totally scrappy for a wonderful pop of hearts. Adding one or two very light shades would truly make the hearts beat. The heart table runner will make your Valentines day extra special, but is too pretty to put away straight after. Pinks and reds match almost any decor and the runner can be displayed long after the special day has passed.
Makes a great wedding gift. Use the runner for a special occasion such as a wedding anniversary. Hearts are pretty in almost any color. Colorful florals celebrate Spring, or a two color quilt for a modern look. Easily adjust the length by the number of hearts. Then do a quick binding adjustment using this calculation:
Height + Width of quilt x 2 = minimum length of binding.
Length of quilt divided by 40 = number of strips.
The finished size of the runner using five 8 inch blocks is 44″ x 12″. Multiply the rows by 3 and make the prettiest baby quilt, or a fun throw over the sofa.
Watch  Collen Tauke in this Quilting Quckly video for the easy construction of the heart block.
<!- google_ad_section_end ->