Quilted Ironing Board Cover Pretty And Practical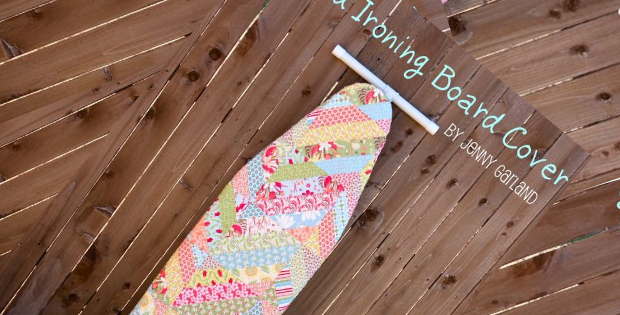 <!- google_ad_section_start -> |
A Fun Ironing Board Cover With Jelly Strips.
Iron could be a little more fun if you have something pretty to iron on. Make up this easy ironing board cover with your favorite jelly roll, or use up left over jelly strips. Just about all sewing projects require a fair amount of time spent staring at your ironing board. Why force yourself to look at those old style striped covers.
Stitch together sets of 3 scrappy strips, or using strips from your chosen Jelly Roll. Then stitch each set of strips together to form a tube. Cut blocks using a 10″ ruler, or easily make a 10″ square from poster board. Cut 10″ blocks and arrange 3 blocks across and 8 blocks down, creating a design that is clean and energizing.
Once stitched together, place your ironing board on top. Add 3.5″ to the perimeter of the ironing board and cut around the shape of your ironing board. This way you can make the cover any size by adjusting the number of blocks.
Cover up a worn-out ironing board pad, or make up a whole new cover adding muslin and batting.
When threading through the ribbon, it's a good idea to put another large safety pin on the opposite end of the ribbon so you don't accidentally pull it through leaving the large safety pins on the ends of the ribbon until you are all done with your adjustments and have tied your final knot or bow. It's a real pain to have the ribbon disappear into the casing and try to wiggle it out again.
<!- google_ad_section_end ->