Sew Your Own Heat Proof Iron Caddy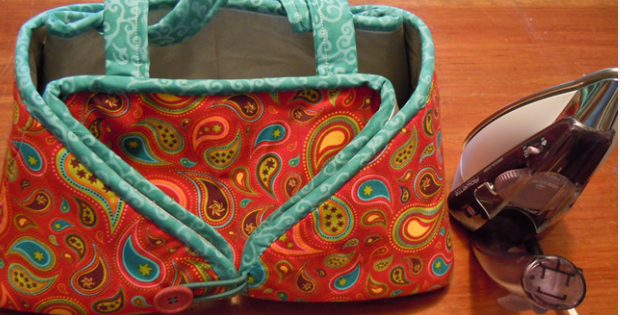 <!- google_ad_section_start -> |
Perfect For Retreats And Sewing Excursions
Stitch up this quaint heat proof caddy to tote your iron. Arrive at your next retreat with a stylish bag that unfolds to reveal a cute travel iron. No need to wait in line to press quilt blocks, the caddy unfolds and becomes an ironing pad.
The tote is designed to use heat resistant fabric, so the the iron can be packed in while still hot. Layers of padding protect the iron, and anything else that might be in your sewing bag. Choose the prettiest fabric, match your sewing bag, or sewing room decor.
T.In The Burg
T.In The Burg
It's stylish, and so easy to make. Fat quarter friendly, or find a piece of fabric to cut the main body of 14″ x 171/2″, plus. If using a fat quarter, there will be sufficient to cut 2 pieces for the handles!
After pressing simply fold the mat and fasten with super cute buttons to secure the tote, front and back.
Pinterest
In the video Kaye Wood demonstrates how to fold the caddy. It folds up snug and secure ready to tote off to your next sewing excursion!
There are patterns available for 2 size caddy's.
Why not give the free pattern a try, provided by Tri County Quilters. However the pattern is suitable for a regular sized iron.
You can purchase the heat resistant fabric from here.
There is a pattern available for purchase for the travel iron caddy, which includes the heat resistant lining.
Your iron may be a little larger than the travel iron, the Caddy pad Jr. Iron Tote' pattern with heat resistant lining included, might be more suitable.
<!- google_ad_section_end ->