Small Wonders Make Sweet Quilts With Fast To Fuse Appliques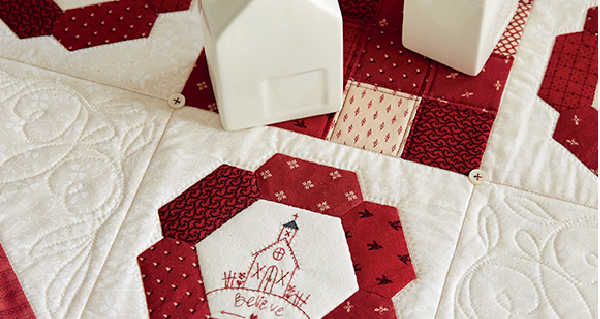 <!- google_ad_section_start -> |
And Birds The Size of Sunflower Seeds Taking Flight
If you like to sew and embroider tiny cute projects, try adding an adorable landscape with little french knot sheep to your quilt. Sew and embroider sweet motifs including houses, pumpkins, grazing sheep and quaint birds. All these beautiful scenes are simply beyond precious and can be created with the addition of a little embroidery and fusible applique to your quilts.
Add some Redwork embroidery to your table toppers and wall hangings for a personal touch. A lightweight fusible under fabrics, before doing any applique or embroidery, will help achieve a smooth surface without making the fabric too stiff for your quilt. While a heavy fusible web is required for tiny embroidery knots and stitches, very small pieces are needed so there's no need to worry about stiffening.
Embroider a teeny-tiny landscape. For this quaint table runner, Serena Boffa Soda uses two of her favorite embroidery stitches: the colonial knot and the bullion stitch. She uses the colonial knot for her sheep and foliage and the bullion stitch for her sweet pumpkins.
Use a colonial knot to embroider snow and a snowman. The addition of just a couple of embroidered stitches adds extra charm to a quilt, and is quick and easy.
Watch this video where Serena shows how easy it is to embroider puffy sheep and billowy trees and bushes with a colonial knot. With the help of a very light fusible stabilizer on the back of the cotton fabric; it makes the fabric a bit firmer in order to work hoop-free.
Serena's book Small Wonders is refreshing and beautifully set out. The instructions are very clear and the photographs really make an impact. If you are into embroidery or paper piecing this is a must have. With how-to information, this is friendly for all levels.
<!- google_ad_section_end ->