Spring Spin With Pretty Pinwheels Bold And Bright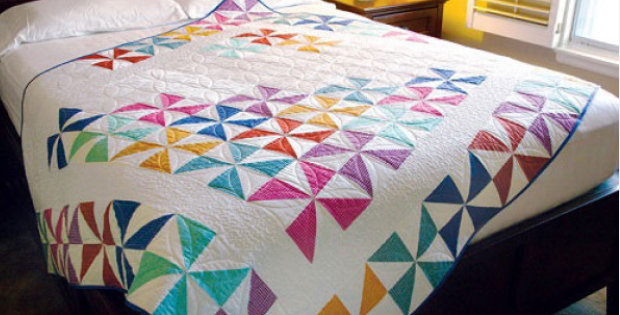 <!- google_ad_section_start -> |
Perfect For A layer Cake
A stunning quilt of pinwheels in bright colors that pop against a white background. Easy to piece using hst's with a good contrast in color, all you need is a layer cake or choose a favorite fabric!
An asymmetric layout with plenty of white space gives this quilt a modern appeal and lots of room to display quilting. Make the pattern just as it is or use your favorite print to personalize it.
A quick quilt in time for the new season, to make your pinwheels fast, use squares from a layer already coordinated, and start stitching. This pretty quilt is made up 42 pinwheels, a no waste layer cake design.
Pair with white, to make your hst's simply sew around the 4 edges with the usual 1/4″ seam allowance. Slice each pair diagonally in both directions, make into pinwheels, arrange them in a pleasing order.
Designed by Bev Getschel, this 64″ x 72″ quilt makes a beautiful Spring throw.
<!- google_ad_section_end ->