Bring A Flower Garden Into The Room With Pretty Blossoms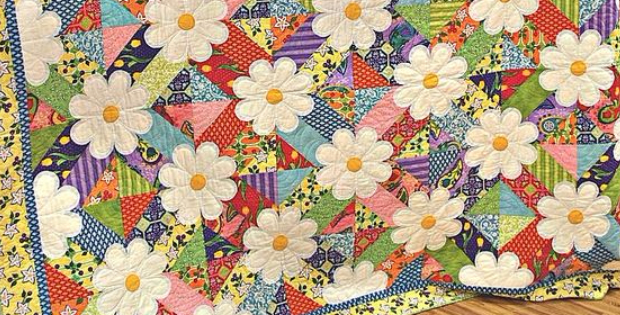 <!- google_ad_section_start -> |
A Gorgeous All Season Quilt
This colorful quilt in bright 30's prints and a flurry of blossoms will brighten any room. Ten inch squares in spring prints with a beautiful extension of appliqued white flowers is bright and inviting.
Layer cake friendly, choose the brightest prints for spring. Change to warm orange and golden yellows for autumn. Swap out the flower centers to change the theme. Use Christmas prints and use bright red for the center of the white blossoms.
Trace the applique onto fusible web or choose your favorite method. The flowers are a field of blooms, they're so fresh and fun to make. Use the center of the blossom to accent, or to create a seasonal theme.
A fun and versatile design that can be adapted to any season, the pattern requires two packages of 10″-squares stacks, or 75 x 10 inch squares in total. Moda's Chloe' Closet 30's Playtime provides a pretty spring background for the fresh white blossoms. The background white colors in Chloes' Closet is slightly off white. Using a true white for the blossoms really give them life. For more dimension add an extra layer of batting to each blossom so they puff after quilting.
There is also a delightful Blossoms mini quilt that finishes at 20 1/2″ x 20 1/2″ for a picturesque wall quilt, or table mat. A small wall quilt or mini that can go just about anywhere. Try out the mini first, or make them both.
Blossoms add a splash of color to your home. Simple piecing and fusible appliqué, this quilt is really fun to construct. The finished quilt is 64-1/2″ x 82-1/2″.
<!- google_ad_section_end ->