Sweet Birds To Brighten Anyones Day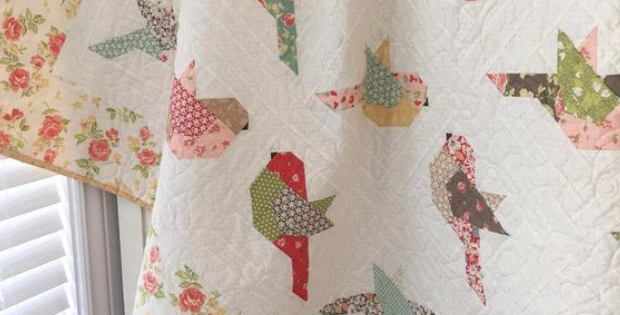 <!- google_ad_section_start -> |
Cute Bird Quilt Full Of Avian Charm
I find birds so appealing because they are such joyful creatures, and so accessible. They represent nature and the beauty around us. I watch the birds outside my window and on my morning walks. Seeing them swooping and fluttering fills my heart with gladness.
With the sound of birds chirping all around, busily taking a bird bath, and taking flight to a true blue sky, it's no wonder bird lovers are ecstatic making these quaint bird blocks.
If you would like to have a go at making pretty bird quilt blocks, Margot Languedoc Designs from The Pattern Basket has designed a colorful bird themed quilt to use as a casual throw in the lounge, at your holiday home in the country, or over a casual chair in the bedroom. As the quilt falls and folds, some birds appear perched and puffed out, while others look as though they're taking flight.  These colorful birds are a quaint scene for any bird lover and will help exercise your creativity.
If you haven't made a bird block yet you'll love how they come together. The block is not paper pieced. The birds in this quilt were made up using Moda Fabrics Fig Tree collection, Strawberry Fields, although I can imagine them in any mix of flowery colorful country prints. The birds are a great opportunity to make different prints play happily together. Use harmonious but unexpected combinations.
The completed quilt, 60 1/2″ x 70″  is made up of no less than 30 of the prettiest birds. Choose the fabric for the wings first, then find body fabrics that will coordinate. The wing is a great little canvas for an interesting pattern or even combination of fabrics. Sometimes centering a design motif on each wing is really effective, other times particular fabrics will suggest feathers.
<!- google_ad_section_end ->