Zig Zag Quilt Using Shades Of Blue Scraps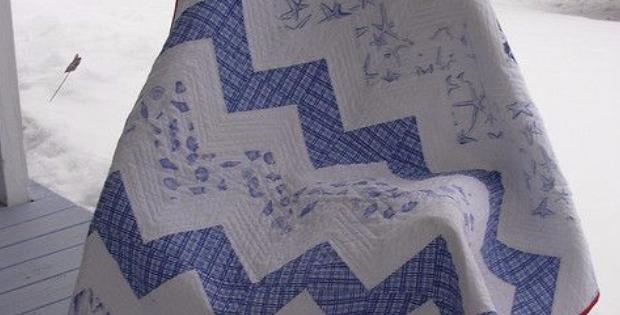 <!- google_ad_section_start -> |
Two Color Quilt Striking In Blue And White.
Two color quilts can be made in any size and with a combination of textures. The colors for this quilt are blue and white, although the blues are a variation of tones and textures. If you don't have enough scrap fabric to make a bed-size quilt, you can still make a two color quilt. Throws make fabulous home decor accents.
Sometimes the simplest quilt designs get passed over in favor of more intricate, more colorful options. Use a simple design such as this easy zig zag quilt made without piecing triangles. You don't need to come up with a whole barrel of fabric, and there's no need to figure out print scale, tone and other elements. Using different shades of a single color per row, provides the chance of having enough per shade in scraps. Fabric requirement for the solid white is 1 3/4 yards and half a yard for the binding.
Lynda Greens blue and white 'delft' helps you appreciate the beauty in simplicity, and can be easier on the eyes, although the zig zag could be made in any color of your choice. We love the blue and even though they are summer prints, it works as a winter quilt too making you think of all the snow outside. Step outside of the box and use a shock of red for the binding! Then it would be a two and a half color quilt. This one looks great against the white snow!
<!- google_ad_section_end ->