Garden Party Quilt To Put Your Embroidered Linens On Display
<!- google_ad_section_start -> |
Use Embroidered Linens And Hankies.
Traditional quilts make the most treasured keepsakes. However, there are other ways to make a vintage quilt that holds dear, especially when using embroidered linen of a table cloth that can't be used again because of staining, and especially one that holds special memories.
Get out your old linen and hankies tucked away in a cupboard somewhere, forgotten about. Ask your mom, friends and family for their spoilt table linen, napkins and even bits of scarves that they don't have the heart to throw out. Everyone will be delighted to see a quilt made from beautiful linen that's been hidden away in a dark cupboard and where no-one can enjoy their beauty.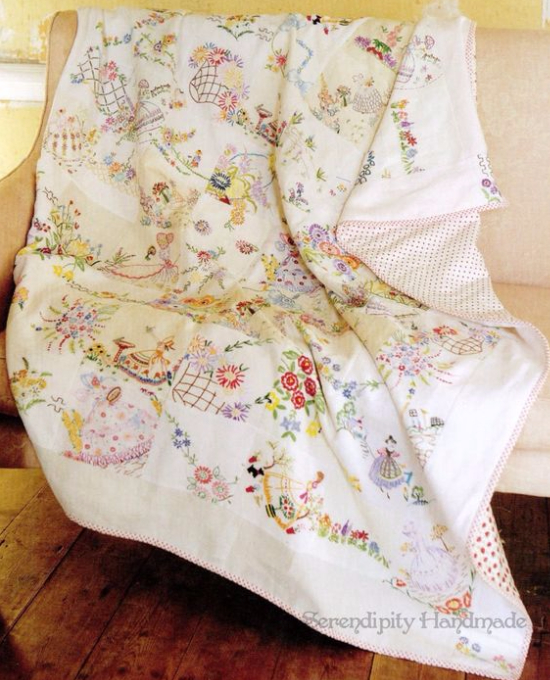 Jane Brocket Yarn Storm Blogs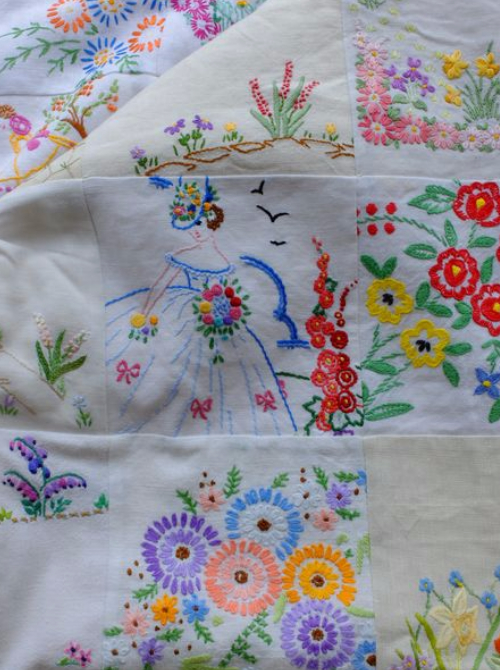 Cut out squares of embroidered cotton, tablecloths, tray cloths and even tea cosy covers. Keep to one size of square and choose all the best bits and favorite details. To make up a 'Garden' quilt look out for lots of herbaceous borders and richly coloured flowers, Victorian ladies with hats, embroidered Bo-Peep, and even a Scottie dog, and put them all together to make a beautiful 'Garden Party'.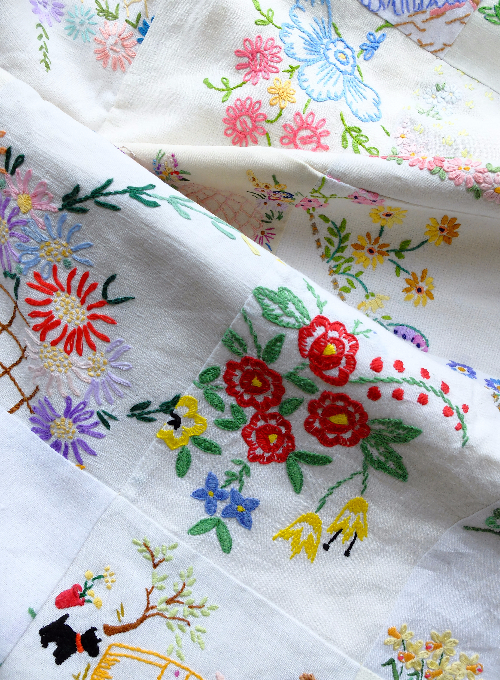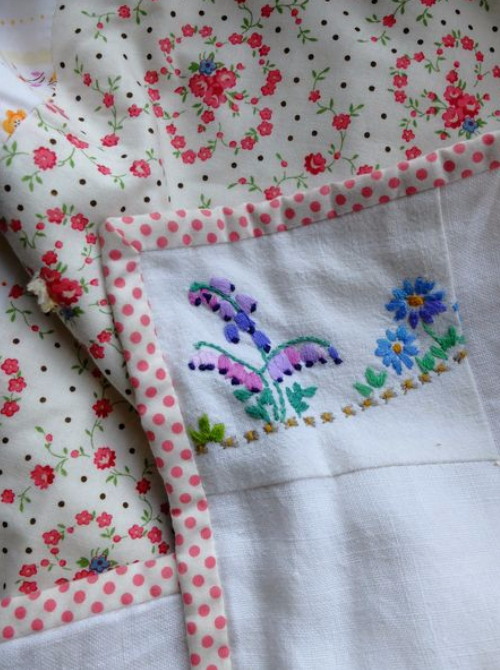 Then arrange them until you love the layout and sew the blocks together. For this quilt
Jane Brocket
used a pale off-white embroidery thread. Details for this quilt can be found in Jane Brockets book 'The Gentle Art Of Stitching' which also includes 40 projects of simple yet stylish stitched pieces for your home, from quilts and samplers to needlepoint pincushions and even greeting cards, as well as a re-imagined Victorian "crinoline lady".
If you love embroidered quilt projects but lack the embroidery skills, why not give this Flower stitch presser foot a try. I was thrilled when I saw the video. You may have only a few special pieces of embroidered linen to use for your quilting project. Use white linen and embroider a few flowers of your own to complete the project. It's a universal presser foot and fits almost any low shank machine. Available Here.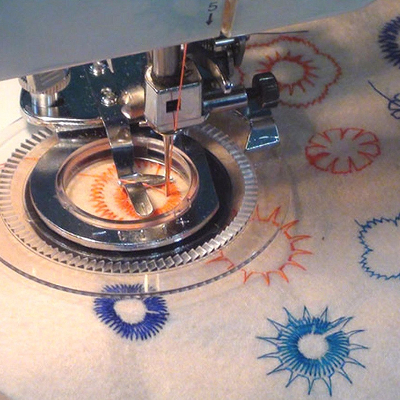 This video shows how easy it to add a little embroidery charm to your quilt.
I love the idea of using embroidered linen to make a quilt, or even a small table runner.
<!- google_ad_section_end ->