A Pincushion With A Pocket For Extras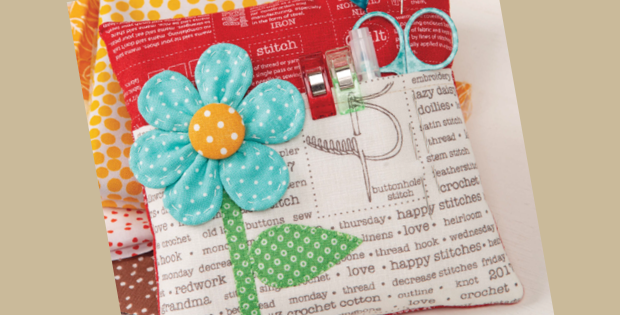 <!- google_ad_section_start -> |
Use The Edge To Hold Wonder Clips
A pincushion is one of the most used 'mobile' sewing accessory. Why not make one with a pocket for all the extras needed when sewing. Designed the right size to slip in a small pair of scissors, a tape measure, thread, and even a ruler. A super cute flower brightens up the sewing room.
This pincushion is just the right size and feels snug in your hand.  Use the prettiest fabrics which can be cut from scraps. The body needs just 6 1/2″ squares. The addition of a pocket is really handy, and it's also a chance to display a favorite left over from a project.
A fun weekend project with the addition of some big stitch hand quilting around the petals, and fusible applique for the leaves. Finish with a covered button.
No need to purchase covered buttons. They're easy to make. Find a button that sews on from the back. Choose fabric and cut a circle twice the width of the button. Wrap the fabric over the button and hand stitch fabric to secure.
These pocket pincushions make delightful gifts. The pattern is available for purchase. However, the pattern can also be found in the pattern book, 'Weekend Sewing', which contains 30 projects including a sewing machine cover with removable thread catcher, sewing mat with pockets, an ironing board sewing caddy, and sew cozies for mason jars to store sewing trinkets, buttons and such. Patterns also included in the book are fabric baskets, catch-all trays, and a string pieced zipper pouch for accessories! Start planning your new sewing room decor!
<!- google_ad_section_end ->