Casserole Dish Cozy Sew Your Own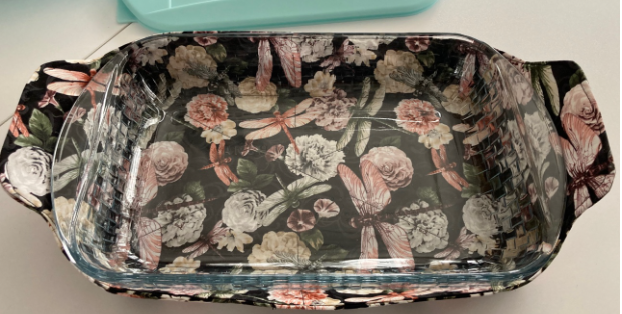 <!- google_ad_section_start -> |
From Microwave To Table
Not a carrier or a hot pad, a casserole dish cozy fits casserole dishes just right. Find just a 1/2 yard of fabric, plus a 1/2 yard of batting and make your own within an hour.
The cozy surrounds the length and height of the dish with raised sides at each end extending passed the height of the casserole handles for good grip. This provides a fold over for good grip and no chance of touching a hot part of the handle. The tabs at either end of the Cozy make it easier to pass around the table.
Each Casserole Cozy is insulated with a double layer of 100% cotton batting sandwiched between the fabric as well as two additional layers in the bottom (4 layers in all) to provide further protection from the heat or cold for your hands and table surfaces. The insulation also helps to preserve the temperature of your hot and cold dishes.
The pattern comes in two sizes. One pattern fits the 8-1/2×8-1/2″ casserole dish and the full pattern fits the 9×13″ casserole dish. All sizes are included in the printable pattern.
Great for hot and cold dishes. Ideal for church or neighborhood pot luck meals or Thanksgiving dinner – the Casserole Cozy also makes a great gift – housewarming, hostess, wedding, birthday, Mother's Day, Christmas – the possibilities are limitless.
The pattern is availabel free, and an email address is required, however included in the pattern are printable Handmade With Love Care Tags.
<!- google_ad_section_end ->