Dogs In Sweaters Quilt For Doxie Lovers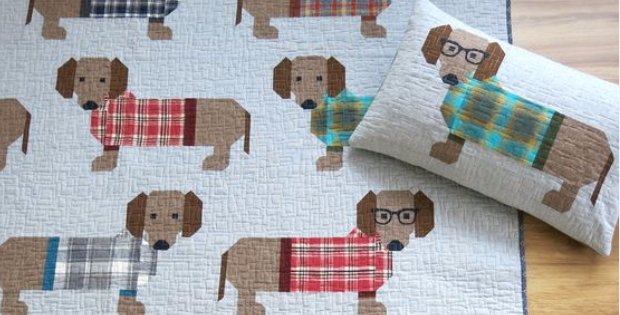 <!- google_ad_section_start -> |
This Dogs Quilt Will Warm Any Dog Lovers Heart.
These adorable dogs and their stylish sweaters are made using conventional patchwork techniques. No paper piecing! Dive into scraps and find the plaids, checks and stripes, to make the most stylish sweaters. The dogs are realistic in light brown fabric with chocolate ears and black noses. The pattern includes instructions with a complete list of the cut pieces needed to make a single block, which can be used for almost any project. There's a doxie pillow that even the dog will love.
It's all puppy love with these dogs in sweaters melting every dog lovers heart. There are dogs, and then there are dachshunds, and this is a fun and friendly wiener dog quilt. Doxies cute appearance and lively disposition have inspired many dog loving quilters, and now a new quilt has joined the pack. Its Dogs in Sweaters, a best friend quilt.
Some of the dogs on this quilt are wearing glasses as a tribute to extra cute, in a combination of patchwork and applique. The quilt is such a fun design you will love creatively choosing each dogs sweater with the good use of scraps.The dogs are adorned in their jackets, the glasses are an optional and easy fusible applique.
Easily adjust the size, or design, by using less dogs in the quilt.
Dogs in Sweaters includes instructions for making two quilt sizes and a 16″ x 26″ quilted pillow cover.
<!- google_ad_section_end ->