Giraffe Baby Quilt Everyone Loves Gigi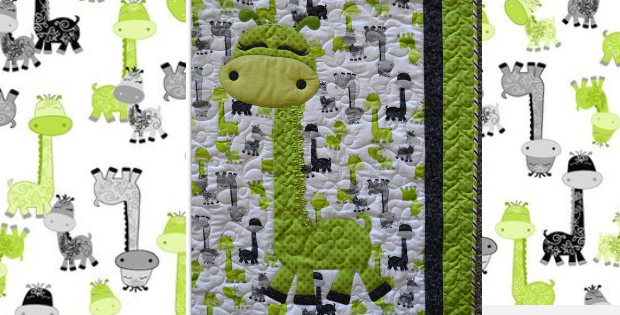 <!- google_ad_section_start -> |
Giraffe Baby Quilt With A Different Approach.
This adorable Giraffe baby quilt was made using a simple pattern, some really fun print, and adding a motif. The versatile design is too cute when made using Gigi Giraffe fabric.
The pattern suggests using the cutest fabric, … just too cute to cut! Like this Gigi Giraffe fabric, and this is the little quilt no larger than the width of fabric on the bolt which saves time and $$'s.  The idea is to take clues from the print..
… and the spotted fabric used for Giraffe motif.


To get the large giraffe, copy the giraffe photo from the site into a word document and simply enlarge it by dragging the corner. Since the giraffe is larger than the size of the 11 x 14 paper print the giraffe in pieces. Decide on the size of the giraffe then position the top half of the giraffe on the page and print. Then, without re-sizing anymore move the bottom portion of the giraffe up on the page and print. Cut out the two separate pieces of the giraffe and then tape together where the overlap occurs. Hope that makes sense. This giraffe ended up being around 18 1/2″ long – not including the spikes on top of head.


For applique the easy way, use a blanket stitch, or shortened zig zag. Use Gigi Giraffe fabric or any cute fabric or your choice.
Click Here To Get Gigi Giraffe Fabric
Simple Sadie was initially introduced as a free pattern. However the pattern became so popular that Deonn the designer from Quilt Scapes felt it worthy a small fee. It is the perfect quick quilt which sews up with 8 seams in total. Use the cutest fabric and you have a Gigi Giraffe baby quilt!

Have fun making your Giraffe baby quilt.
Article:quiltscapesqs.com
I recently saw these bibs made from the same Gigi Giraffe fabric. They're being sold on Etsy. Use left over fabric and make a couple of these for baby.
<!- google_ad_section_end ->