Don't Throw Away Another Selvage Until You Read This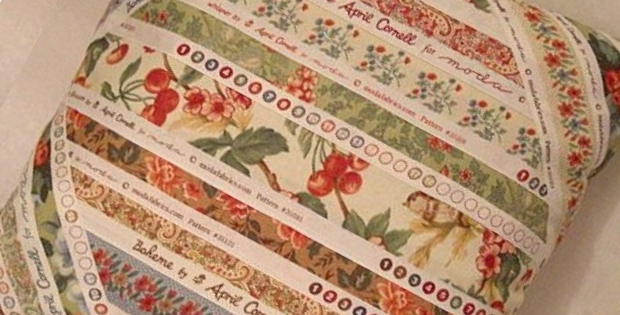 <!- google_ad_section_start -> |
A Charming Throw Pillow And Quilts From The Selvage Edge.
The first thing quilters are taught is to cut off the selvages, and also to never cut fabric close to the selvage. Therefore the selvage edge also has a strip of print along with it. Fabric scraps and off cuts make beautiful quilts. Selvages are a part of those scraps. Combine selvage-pieced blocks with complementary fabrics for visually exciting and dramatic quilts.
Start a scrap bag just for selvages, or you may already have some exciting strips ready to make this charming pillow. It's quick and easy, and you can make it just as eye catching using strips and strings, with a couple of selvages added to the mix. The pillow would look great in your quilt studio. Make the back using a single piece of fabric, or stitch up left over jelly strips.
When trimming off selvages make the strip approximately 1 1/2″ wide including the selvage edge. That way some of the printed pattern shows. Karen mentions cutting even a little wider if wanting to capture a part of the print that you would like to put on display. The design of this pillow requires the smallest pieces of fabric to start the layout, so not a scrap of fabric wasted!
Moda Scrap Bags are a great buy as they are chock full of strip lengths. Most are from 2″ to 4″ in width, up to 32 inches in length or longer. The lengths are cut from the same fabric collection so color ways and fabric mixes are great, working out less expensive than a jelly roll. They're fun as each one is a surprise packet! They're available from here.  Moda Scrap Bags also contain a number of selvages, just right for this decorative pillow as well as many other projects from Karen Griska's 'Quilts From The Selvage Edge'
Never throw away a selvage again. Join the selvage revolution and have great fun scrap quilting. Karen Griska's book "Quilts From The Selvage Edge" was published by the American Quilter's Society way back in 2007. The quilts are amazing and they are easy to make. There is a Log Cabin, a Tree-of-Life, Tumbling Blocks, a Pineapple, a Basket Weave, and a Star quilt. Thirteen in all.
Give this fun selvage pillow a try, available as a free tutorial.
<!- google_ad_section_end ->