Easy Walking Foot Quilting With Freezer Paper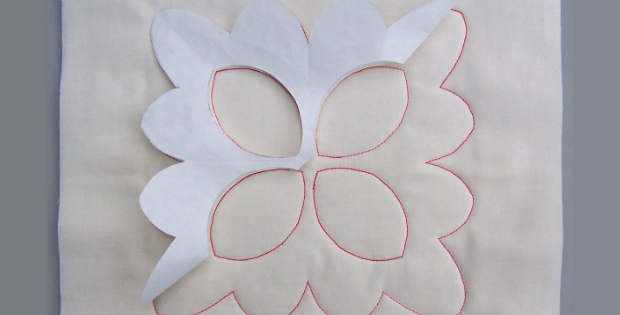 <!- google_ad_section_start -> |
Try No Mark Machine Quilting.
There are a variety of easy machine quilting techniques that render beautiful results using a domestic home sewing machine. If you've been using a walking foot for straight line quilting using your walking foot, but afraid to try free motion, use this no-mark method.
If it's your first try out, start with a sample quilt sandwich consisting of two 12″ x 12″. For the template use a 10″ square of freezer paper. To make a template, a square of freezer paper from your local grocery store is all that is needed. Cut to size and fold freezer paper square in half, then in half again to make a 5″ square. Fold the 5″ square in half diagonally to make a triangle. Free hand cut a simple design.
Unfolding the freezer paper reveals the pretty design, ready to start quilting. Nancy from 'We All Sew' shows how to position the template using a chalk marker to draw centering lines. Iron the template with shiny side down. Nancy mentions to not use a water-soluble pen for marking as the heat from the iron will permanently set the lines.
Using a walking foot makes it easy to stitch along the edge of the freezer paper. Turn right side up where you can quilt the same design on top of the block. Make any design for table runners and wall hangings, or any project large or small.
<!- google_ad_section_end ->