French Roasted Batik Table Runner Match Almost Any Decor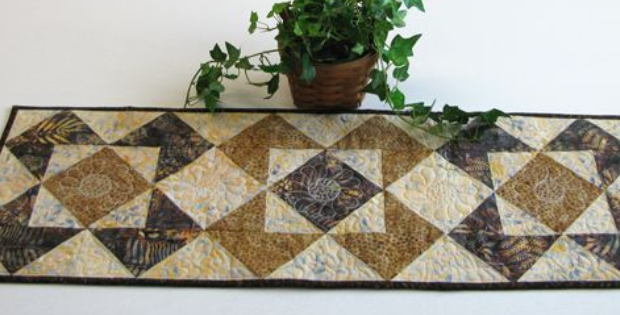 <!- google_ad_section_start -> |
Island Batiks And This Fast And Easy Quilted Table Runner To Take You Away.
Beautiful Island Batiks are mesmerizing at most. Used in this three block table runner creates an ambience with neutral tone elegance. French Roasted fabric colors that will fit almost any decor. Dimensional quality of these batiks are exquisite.
Connie Kreskin from Free Motion By The River has created this design using a couple of Accuquilt dies from the Accuquilt Mix and Match 12″ Qube. Working from the Mosaic block, Connie changed it up a little. The result, very appealing twelve inch finished pieced blocks that showcase beautiful batik fabrics. To add making three of these blocks a great length for this table runner. No wonder it's fast and easy. Easily make a table topper with one block at this size.
Take a look at the Cube Mix and Match 12″ Block here. The included 72  12inch free block patterns book tell you which die number to use for each shape.
Connie's design simple yet quite elegant is so well balanced this table runner would look great in almost any fabric. But if you love the batiks, they really lend themselves to this runner. Dark binding make the blocks pop, enhancing the French Roast Batiks.
A small feather design quick and easy in the center of the blocks create a light dimensional feel.
Images:Free Motion By The River
From the Island Batik's French Roasted collection:
Dark Brown – ¼ yard
Cream – ¼ yard
Light Brown – ¼ yard
Brown – ¼ yard – 3 – 2 ½" strips for binding
Backing – 42" x 18"
Batting – 42" x 18"
<!- google_ad_section_end ->