Hexie Coasters In A Flash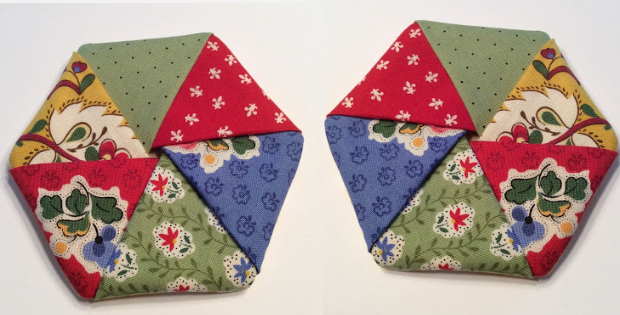 <!- google_ad_section_start -> |
Whip Up These Stashbuster Coasters.
These cute hexagon coasters can be made to look stylish, scrappy, or made with holiday fabric. They're great to use when friends and family come around, to protect your table from hot or cold drinks, and to add a little special decor to the table too. They make great retreat gifts and online swaps, not to mention something new for your kitchen.
The perfect stashbuster as they look great in any fabric. Mix up fun floral prints in bright colors, or create a swirl using one print and one solid. Find a favorite charm pack, and you make up a set right away. To make a coaster requires 5″ pieces of fabric. Debbie from Busy As A Bee was shown how to make them while at a retreat. The coasters so easy, you hardly need a pattern. Even the kids can help out.
To get started you'll need a half hexie ruler. Liz Porters hexagon ruler has half hexie measures, so you get the best of both worlds. Start interlocking one hexie shape into the next until all five are folded together. A quick stitch around the edge is enough to secure the coaster.
Trim some of the bulk in the corners before turning right side out, and you have a perfect coaster! Top stitch if you like, or leave it as it is. Because the center is open, you can place the bottom of a wine glass into the folded part, and if each coaster looks different, everyone will know which glass is theirs! They're really nice made up in three different Christmas fabrics.
<!- google_ad_section_end ->