Make A Sewing Tote With Beautiful Butterfly Blocks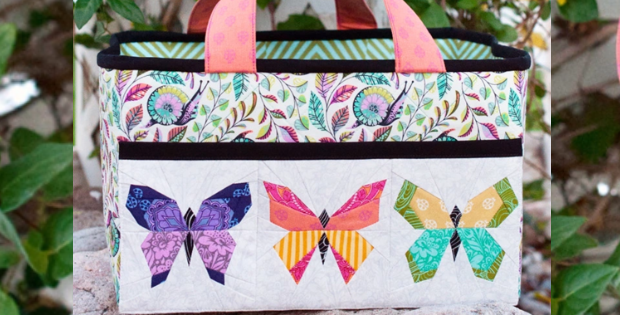 <!- google_ad_section_start -> |
Choose Fabrics To Make it Your Own
This sewing date traveler tote has a ton of possibilities. The tote includes a zippered division inside, and two handy pockets, front and back. on the outside. It's a great size for toting around everything you need for a quilt project, and it's easy to keep everything separate. The addition if three charming butterfly blocks sets this tote above the rest!
The tote is designed to add a pocket to either side, a handy addition to slip in accessories while on a retreat or weekend sewing excursion. The pattern requires two 13" x 5-1/2" for the outside pocket, the perfect size to add 3 of these stunning butterfly blocks which are a finished size of 4 1/2″! With a little adjustment, the blocks are the perfect addition.
The sweet butterflies, designed by Nicole Young of Lillyella, are paper pieced, and can be used as a 5″ finished square, perfect for charm square projects. Nicole made this tote and incorporated the butterflies. Each Butterfly, named Cricket, Gidget & Pepper, have a different wing design. They're fun to make using scraps in pretty bright fabrics and creative color combo's. Then use them in any project you choose!
The 'Sewing Date Traveler' tote, (approximate size: 12" wide, 6-1/2" tall, 9-1/2" deep), designed by Cynthia Frenette for Robert Kaufman, is great for toting basics. Just add Nicoles pretty butterflies and everyone will want one!
The butterfly blocks are available as a free pattern, and together with the free Sewing Date Traveler, it's a new project planned for the weekend.
<!- google_ad_section_end ->