Make A Snap Bag For Quick Quilting Accessories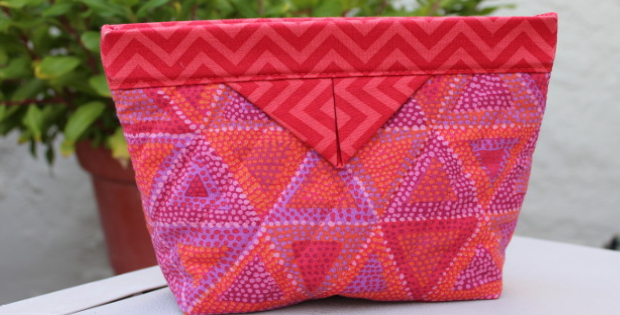 <!- google_ad_section_start -> |
Snap Bag Easy As And Even Easier To Make
Sometimes you only have one free hand to open your accessory case to grab a quilting clip. Zippered pouches are easy to make and always come in handy. However a snap bag is just the dandelion of all pouches. Use an old metal tape measure to cut the strips. Add a small pleated triangle for a little style.
Follow this simple tutorial to make the brightest snappers. If an old metal tape is lying aound, the only other item needed is some fabric scraps!
Find your brightest scraps and make a heap of them!
While you're thinking this whole thing through here's what you'll need:
1.) Quilted Fabric (or fabric and batting to quilt your own) 9″ x 14.5″ This is the outer bag fabric.
2.) Lining Fabric 9″ x 18.5″ This fabric covers the measuring tape across top of bag.
3.) Side Loop Handle 2.5″ x 4.5″ Can be lining or outer fabric-your choice.
4.) Wrist handle (Optional) 11″ x 2.5″.
5.) Handles (Prairie Points) Cut Two 4.5″ x 4.5″ (Same fabric as lining)
6.) Coordinating thread for both fabrics
7.) Fusible Interfacing 9′ x 2″ (Use up small scraps of left over interfacing and piece together)
8.) 1′ Tape measure from hardware store. (Check to see what screwdriver or tapered cross tip screwdriver to have handy to undo outer case of tape measure)
9.) Roll of tape (either electrical or blue painter's tape to cover tape measure ends)
10.) Sharp, heavy duty utility scissors (to cut tape measure)
11.) Ruler (to draw quilt lines if quilting your own fabric)
12.) Chalk or water soluble marker (to draw quilt lines)
Make just one for yourself. They're so handy.
Stylish…
<!- google_ad_section_end ->