Merry Christmas Jelly Roll and HoneyBun Table Runner With Extra Cheer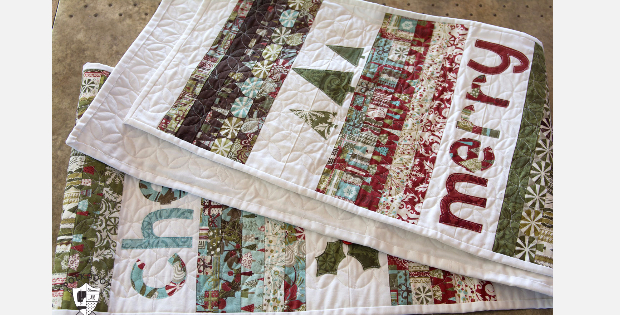 <!- google_ad_section_start -> |
One Jelly Roll, One Honeybun, A Little Applique A New Christmas Table Runner.
This such a neat idea. This Christmas table runner is made up of 1 1/2″ strips, which when bought in a roll is also known as a 'honeybun', one jelly roll of white strips, 10 fat quarters or one charm pack. While holiday theme fabric was used for this beautiful table runner, the runner can be made in any colors, with or without the goodwill messages.
As an overview, you'll be making the blocks using the 1 1/2″ strips. Arrange four strips to form the color and pattern that you like and sew them together. Then cut the strips into three 14″ pieces. Make another 3 pieces with mix and match colors in the same way. Then sew 2 jelly roll strips together and cut to 14″ in the same way as the honeybun strips. Make a total of 10 white blocks in the same way. Then cut another 2 white 14″ strips.
Once that's done follow the design in the pattern tutorial, or make your own. Make the runner longer, or even shorter by removing one of the four strip blocks. Layer with batting and backing and quilt. The runner already looks amazing, and at this point you can decide whether you would like to applique the messages and ornaments onto the white jelly roll blocks.
Melissa from Polka Dot Chair appliqued messages like Joy, Merry and Jingle, and appliqued Christmas ornaments and Christmas trees in between.  Then peel the backing off the fabric letters and stick them on the white jelly strips. Then iron them on. Choose your ornaments and cut them out from the remaining fabric. After ironing them on applique around the edges with a straight stitch. Melissa used red buttons for the holly berries adding an extra special feel! Bind using honeybun or jelly roll strips. Follow the tutorial on how to make applique letters here. 
<!- google_ad_section_end ->