New Potholders For Foodies And Your Kitchen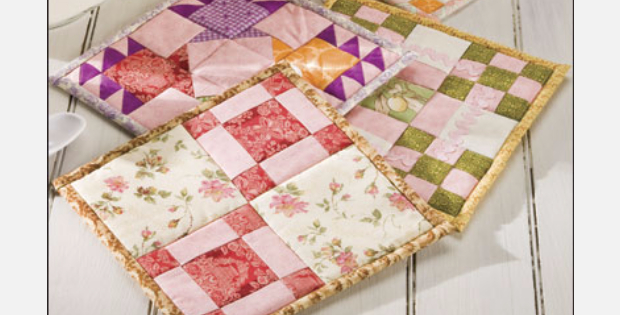 <!- google_ad_section_start -> |
Super Quick Potholders With No Rules Color Options.
These easy peasy potholders are perfect scrap busters. Make up five as a set for your kitchen, or choose one or two favorites. Use while cooking, and as a pretty hot pad on your kitchen table to slip under a serving dish for a hot breakfast or meal. Hang them up next to cooking utensils ready to use while adding some fresh decor.
Small pieces of left over fabric are ideal to make up a set. Make a set with the same design, or make two different designs with matching fabric. Berry pinks and red are always a favorite and are pretty in country style and homely kitchens. Similar tones for all five make a lovely set for the kitchen.
Quickly cut up small squares and with a few stitches the blocks are done. New twists on traditional provide some fun blocks to make up. Use the blocks to make a number of other projects too. The blocks are 8″ x 8″ and with a little experience can be combined to make an extra length potholder for a long serving dish hot from the oven.
A great way to practise a couple of blocks too. Quaint nine patch blocks use up fabric bits down to inches and are so effective as each square can be a different color. Embellish with rick rack or even a little shabby lace for a special touch. A great week end project. Make extra for gifts too.
These quaint potholders are taken from the book 101 Fun-To-Quilt Potholders. The book consists of no less than 101 blocks for potholders or combine the blocks to create your own quilt or project! Fun to practise blocks using scraps too.
<!- google_ad_section_end ->