Peek A Boo Bunny Wall Quilt Where You Choose The Ears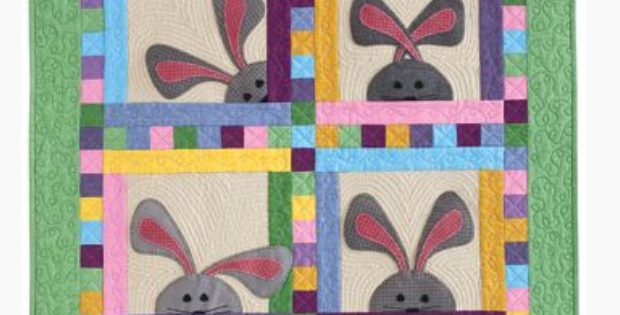 <!- google_ad_section_start -> |
A Peek a Boo Bunny That Everyone Will Have Fun With.
I loved this idea of bunnies peeping out from each block. There's a whole family of them. In other bunny news, the designer of this sweet peek-a-boo bunny wall quilt, Paula Stoddard, had ridiculous fun figuring out what to do with all of those ears. You'll have great fun with this bunny quilt. The pattern features wool appliqued bunnies that have ears that can be re-arranged, then fused and appliqued in place with black thread and a blanket stitch.
What to do with those bunny ears! Each block has a window for bunny to peep out. Place the bunnies at any angle and top their mischief with waving ears. You can arrange the ears anyway you like creating a personality for each one. The entire quilt can be made up of bits of colorful fabric that you more than likely have tucked away. A few scraps in grey and pink is enough for the bunny and ears.
Use a mix of bright ice-cream colors in small squares for the 'window frames' and a grass green border because that's bunnies garden. These happy bunnies romp and play all day.
The finished bunny wall quilt is 34½" x 34½".  Get a 'Hang It Dang It' adjustable quilt hanger that takes sizes of  21″ to 35″ wall hangings to get your peek a boo bunny up the moment you've completed it. Hanger available here.
Basic quilt making lessons are included in the Peek-a Boo bunny wall hanging pattern so almost anyone can make a bunny quilt in time for Easter.
<!- google_ad_section_end ->