Scottie Dog Mug Rug Lets Meet For Coffee After A Walk In The Park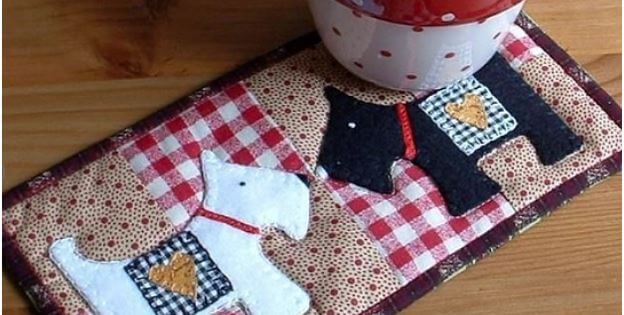 <!- google_ad_section_start -> |
Sweet Scottie Dog Mug Rug For Friends Who Come Round After A Dog Walk.
When a friend who's a dog lover comes for a visit after walking their little dog, use these cute little Scottie dog mug rugs when you serve up coffee or a drink. A simple project to make in a weekend, and will make the most adorable gift for anyone who loves dogs, and especially scottie dogs. Kids love them too. These sweet dogs are saying 'hello' as they meet up, and exchange warm greetings.
A perfect project for fabric scraps, these cute Scottie pups can be made in any color. Use dog fabric like paw prints for alternating squares. Plaids go well with this theme. Making one dog white and one black to give the pups individuality, and no-one will ever get them mixed up again.
If making for a gift, pair with a matching coffee mug and a hot chocolate sachet, toss in a small packet of cookies. Match colors to your friends kitchen decor. Make a personalized collar for each dog. Use traditional red and black plaid, and you can make the dogs look realistic by using black solids. Put on bright red collars, and finish with polka dot binding!
It's fun telling a story about each Scottie. They even seem to have different faces in these mug rugs and it's simply because of the fabric or color. I had a good laugh when Saljay called her mug rug Double Trouble 'Westies'. Dog lovers will warm to these cute dog mug rugs. They could even be Christmas Scotties using holiday fabric. Perfect for gifts in time for Christmas, and kids and adults alike will love their Scottie dogs all year round.

A neat little project when you just feel like relaxing and making a heartwarming little gift. It's great fun choosing fabric bits from your scraps and deciding which piece to use for the pups.Then decide which fabric to make for the cute collars. A set of these mug rugs will brighten up any dog lovers kitchen!
The Scottie dog mug rug pattern is available for purchase for a very small fee. These cute dogs will be loved and treasured year after year. Size before quilting: 9.5″ x 5″.
<!- google_ad_section_end ->