Soup Bowl Cozy For One Or Make A Set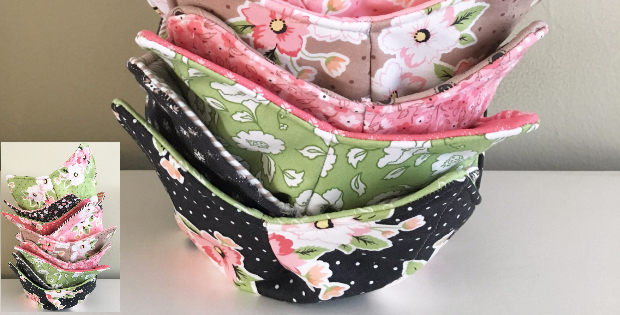 <!- google_ad_section_start -> |
Bowl Cozy To Protect Your Hands and Furniture.
With stacks of microwave cozy patterns around, I love the idea of a soup bowl cozy for just one bowl. The bowl cozy protects your hands, lap and table surface. Besides they're really cute and somewhat trendy making great gifts.
It's so easy to make requiring only two by 10″ squares of fabric and two by 10″ squares of batting. Makes a great gift for family, friends or work colleagues, teachers and school friends. Make a whole set for the family.
They're the perfect size for a single serving soup bowl. The bowl cozy also helps keep the soup warm. Use it for chilli, and even a hot bowl of oatmeal.
Happy Hour Stitches made up the design made ten in one night and had them ready to give out as gifts the next day… using fabric scraps! She then placed a soup mix inside the bowl and gave it to her friends and colleagues. Super easy hand made gifts that are practical and will likely be used in any home. Anyone can make a couple of these! I like the idea of making a set too, for the whole family or friends visiting. Or have at least two or three for your own use. If one gets a spill, throw it in the wash, and there's another one handy.
Stitch up a pile in pretty fabric for when family and friends come round for a casual meal. When serving hot soup or chilli, place a pile on the table for anyone to use and feel more comfortable.
Please note that if you plan to use the cozy in the microwave with the bowl, be sure to use only 100% cotton fabric, thread and batting. Anything polyester or metallic will set on fire. Follow this super easy tutorial.
<!- google_ad_section_end ->