Sew A Four Patch Pinwheel Quilt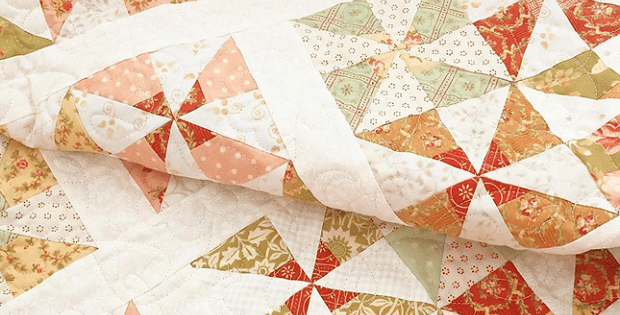 <!- google_ad_section_start -> |
Four Pinwheels In One Block Make The Prettiest Quilts
Pinwheels are fun happy quilt blocks, great for baby quilts, and bright and inviting for Spring and Summer. The festive blocks are easy to construct, and are great for beginner projects. You can easily whip up a stack of pinwheel blocks and stitch up four pinwheels into one 12″ block.
Pinwheels are made using half square triangles using a dark and a light to create the 'wheel'. Set up four-patch style, with identical pinwheel blocks that make up the quadrants. These fun blocks can be totally scrappy.
(No Pattern Available At This Time) Four Patch Pinwheel – The Pattern Basket
To create a four patch pinwheel block of 12″, Lindsay Conner says to cut 8 squares 3 7/8 inch of each color and sew them together. Sew a lighter fabric to a darker fabric with right sides together. Then, arrange the Hst's so that the light fabrics always sit next to the dark to create a pinwheel. After trimming, the (pinwheel) units should measure 3-3/8″ square. Putting four pinwheels together to make one big block puts a lot of fabric on display!
It's super quick to make 8 hst's in one go using Angela Walters Layer Cake Hst's 'Magic 8' method which you can see here. Put together 2 layer cakes, or 10″ squares, one dark and one light right sides together. Stitch a quarter inch seam each side of the diagonal lines, and make four cuts, horizontal, vertical and then two cuts on the diagonal. Make cuts without moving the fabric using a rotating cutting mat.
The four patch pinwheel can be used in any quilt pattern that requires a 12 inch quilt block! Read the full tutorial on how to make a four patch pinwheel.
<!- google_ad_section_end ->