Super Easy Strip Piecing For Patchwork Squares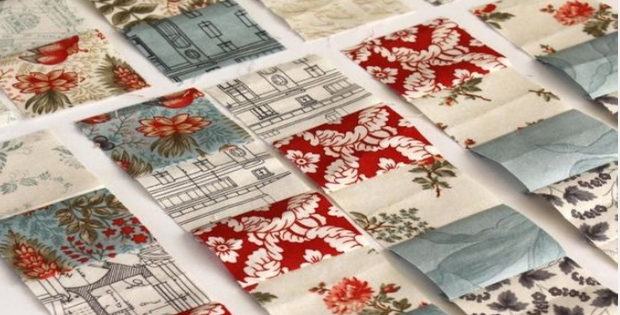 <!- google_ad_section_start -> |
From Large Quilt Projects To A Tiny Checkerboard
If you're looking for something to use for a quick table runner, from totes to table toppers and anything in between, you can easily make your own 'fabric' with patchwork and their are no limits. Use color combinations, go totally scrappy, or fabric with different values. They're fun to sew, but after the first-love experience, it's great to choose fabrics and put the pretty squares together quick.
It's a great project for strips. Crack a jelly roll and all colors are beautifully coordinated then stitch them up using this neat technique. Or cut strips from yardage. Quick as a flash, you have a 20 x 7 panel of randomly distributed squares. Size squares simply depends on the width of strips to begin with.
Bloom and Blossom shares how she needed a large panel of 20 x 7 of randomized 1.5″ patchwork squares. Her new found technique is cutting twenty-eight 11″ x 2″ strips from yardage or fabric scraps. Or choose 28 strips from a jelly roll. Sew together 7 strips in 4 sets, and press all seams in the same direction. Then sew the first and seventh strip right sides together to form a tube.
Bloom explains to cut the strips in five circular 2″ segments (or the intended square size).
Unpick one seam of each of the five tubes, choosing a different seam for each. This will yield five strips with differing fabric placement. Repeat this process for each of the four sets of fabrics to yield twenty strips.
Stitch the strips together in rows, creating your own design. You may need to press some of the seams again in the opposite direction as you stitch them together. It's a quick technique that offers delightful fabric variations. Use the panel for any project!
<!- google_ad_section_end ->