The Best Scrap Busting Log Cabin Quilt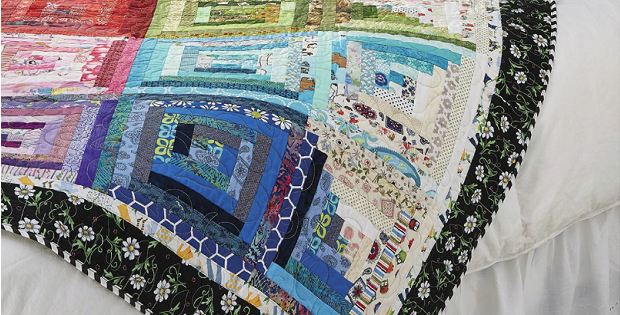 <!- google_ad_section_start -> |
Scrappy Fabric Combinations For Any Season
A new spin on an traditional log cabin makes this pretty throw the perfect quilt to use up almost every scrap. Fabric that has no color co-ord looks great in this design, getting away from the usual dark light arrangement of a log cabin block. It's the perfect design to put interesting pieces of fabric on display.
Usually this design works best if you use fabric that has some contrast, like lights and darks, or warm colors like red or orange on one side and cool colors like blue or green on the other. While a good guideline even when sewing scrappy, you can use any color that appeals to you, and there's no need to use the usual red center.
Divide strips into shorter and longer ones to get started, using the shorter ones in the beginning, and preparing for longer ones as the block grows. There's no need to be tied to having enough strips of light and dark to complete blocks. The design is stress free scarp friendly!
Enjoy seeing each block come to life, and savoring the memories of where each fabric came from. Beautiful blocks splash with color and brighten up the room. The quilt requires 20 generous blocks to complete the top, every block a totally different design!
This pretty log cabin quilt is just one of 9 designer log cabin quilts put together in the pattern book, 'Log Cabin Variations'. The collection of patterns provide quilting fun over and over, using a new spin on a well loved traditional block. Included in the patterns are helpful tips and tricks, which always helps towards better quilting!
<!- google_ad_section_end ->