The Prettiest Jelly Jar Table Runner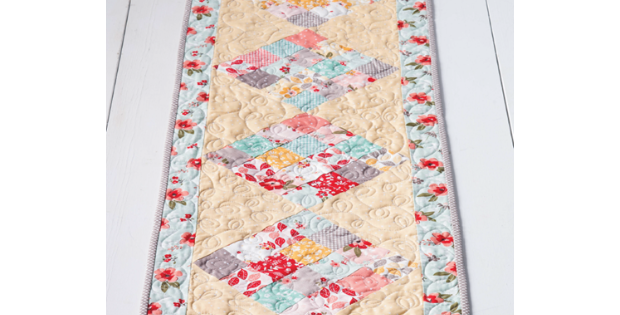 <!- google_ad_section_start -> |
Cut From 5″ Squares Or Jelly Strips
Four 16 patch blocks set on point makes a gorgeous table runner to dress your Summer table. Sweet Prairie fabrics are darling in 2 1/2″ squares, framed in a border of county blooms.
Scraps cut into 2 /12″ strips or squares, a jelly roll, or left over jelly strips can be used instead of 5″ squares. Sweet reproduction or farmhouse styles prints are perfect for this project. It's fun arranging squares for the sixteen patch, to create a layout you love.
Sew the squares on-point and connect them in an attractive design, this one-of-a-kind table runner will be pretty in the kitchen or on the porch table. The versatile design would make a lovely Christmas runner, or a seasonal topper just by changing fabrics.
Designed by Trisha Lynne Maloney, Jelly Jar is a finished size of 49 3/8″ x 15 3/8″. Reduce or increase the number of 8″ blocks to adjust the size of your runner. You could also sew four blocks to make the table topper square.
The pattern is just one of 26 projects in a special issue of Quilters World, which is available for purchase.
16 patch blocks are fun to sew, however for a beginner, turning them on point might prove a challenge, as well as connecting blocks and half square triangles. It's important to place bias edges correctly when piecing setting triangles. If you've never sewn on point and constructed a quilt top with triangles, a mini course with Nancy McNally at Annies Creative Studio covers all you need to know to get great results every time.
The course is based on the Jelly Jar pattern while learning, and includes the pattern to keep. Great for beginners to fall in love with quilting.
<!- google_ad_section_end ->