Make The Raggliest Snowman Rag Quilt Ever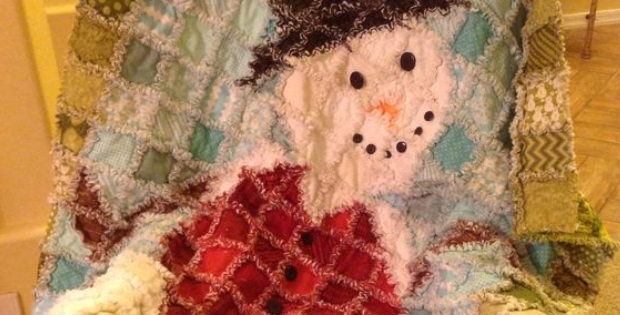 <!- google_ad_section_start -> |
The Raggliest Snowman Rag Quilt
While there are a heap of snowman rag quilts around, there are none as raggly as this one. Using the snowman quilt pattern below will provide this loveable snowman, but if wanting the raggliest snowman quilt, adjusting the exposed seam by 1/4 inch would more than likely work.
Easily copy the colors of the snowman in the picture. They're so soft, making you feel as though you could disappear into the quilt. The snowman is not as 'white'. The colors on the pattern cover are in dark blues and red and the 'Snowman' is a crisp white, compared to the fluffy raggy snowman which is more of a cream white. The snowman in softer colors looks floppy, more cuddly and inviting! Both quilts are equally as nice. It's a personal choice.
To make the very raggy snowman, cut the block  1/4 inch more than the pattern states, allowing a 3/4 inch exposed seam to be ragged.  The extra quarter inch will make the snowman rag quilt more raggly and fluffy. Use 2 or even 3 layers of flannel for each block. Use a dryer ball to help rag/fluff the edges.
Snowman in darker colors with less rag.
They're the same pattern. Create your own snowman rag quilt using colors of your choice!
The Snowman Rag Quilt Pattern is available for purchase.
<!- google_ad_section_end ->