Vintage Sheets Valentines Quilts Are Soft and Romantic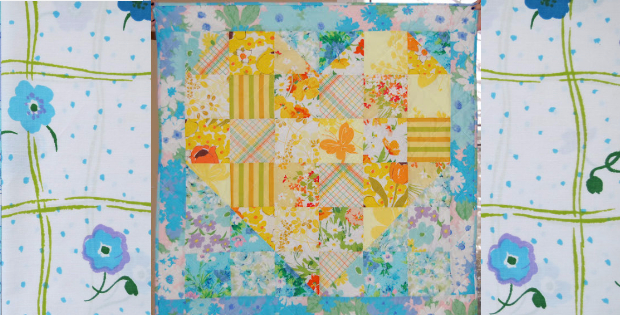 <!- google_ad_section_start -> |
Try This Valentines Quilt With Vintage Sheets.
Valentines quilts have pretty hearts and vintage sheets add to the romance. Heather Kojan has come up with a great idea to use vintage sheets for quilts and made this heart baby quilt design for Valentines. Thrift shops are the best to pick up vintage sheets for very little, and the money is going to a good cause. It might be a little more time consuming but it's sure to be great savings on fabric, plus the vintage sheet fabric would more than likely render a unique quilt. While it's fun dashing off and buying fabric, there's something special about a vintage fabric find from a thrift store.
Heather has a love for vintage sheets, and made up this charming heart quilt that can be made in an afternoon. Although Valentines is always about red hearts and some pink for extra romance, vintages are just beautiful in these soft blues and yellows and bring about a long lasting vintage romance. Of course the sheets are a mix of florals, butterflys stripes and vintage plaids creating a floaty theme just perfect for a heart quilt.
Makes for the prettiest baby quilt for your 'little' sweetheart too. This little quilt is perfect for any Valentine, and should you feel you would like to stay with traditional reds and pinks, I placed a link below to a lush range of vintage sheets, fat quarters and half yards.
To begin with you'll be needing:
In blue vintage sheet fabric** (5) 6″ squares and (6) 5.5″ squares in 3 different blues.
In yellow vintage sheet fabric** (5) 6″ squares and (20) 5.5″ squares, in 7 different yellows.
For borders: (2) 3.5″ x 30.5″ and (2) 3.5″ x 36.5″ of blue, Heather suggests a diffferent blue than mention above.
For binding: approximately 160″ double fold binding (cut binding strips at 2.25″) of blue VS (same as border)
Batting and Backing: pieces: 42″ x 42″
Once you have your fabric this cute Valentines quilt can be made in an afternoon.
If you don't have sufficient vintage fabric or sheets, these pretty vintage florals are available, where you can purchase a vintage fabric/sheet range on offer in all sizes of fabric. You can even make up your own vintage sheet half yard pack and six vintage sheet fat quarter bundles for a few dollars! And I love their "Mystery Sheet Vintage Pack". I got lost in the range and almost forgot to finish sharing this pattern with you.
Now that you have the fabric requirements and where to get the most delightful vintages, visit Heather for her quick and easy tutorial. Finished size: 42″x 42″ .
<!- google_ad_section_end ->